Phoenix Extra Security Key Cabinet KC0071E
The Extra Security Key Cabinet from Phoenix is an excellent quality key cabinet ideal for car dealerships, garages and hotels. We have different ranges of capacity available with a choice of three locking types to choose from.
Free delivery UK mainland
100% secure payments
Customers rate us at 4,8/5,0
Features
Key cabinet for efficient and secure storage of keys
Capacity to store up to 50 keys
User-friendly digital electronic lock with key override facility. Tested in accordance with BS EN1634-1 2008
Programmable with a 4-6 digit code and can store up to 80 user codes. Tamper time out and low battery warning
Unit comes with adjustable hook bars, key tags, rings, number labels and a removable control index
Solid square cornered construction and 2.5mm thick steel plate
External dimensions: 350 x 380 x 80 mm (HxWxD)
Weight: 11 kg
Colour: Grey
Fixing via back wall
Pros and cons
Excellent quality construction
Supplied with 50 key hooks
Adjustable hook bars provided
Key tabs, key rings and number labels all included
Pre-drilled fixing holes ready for wall mounting
Different locking types available
Expert advice
The Phoenix Extra Security key cabinet has been manufactured to an excellent standard and is perfect for the secure storage of multiple sets of keys.
We have different sizes and locking types to choose from to match your requirements.
Scale ratio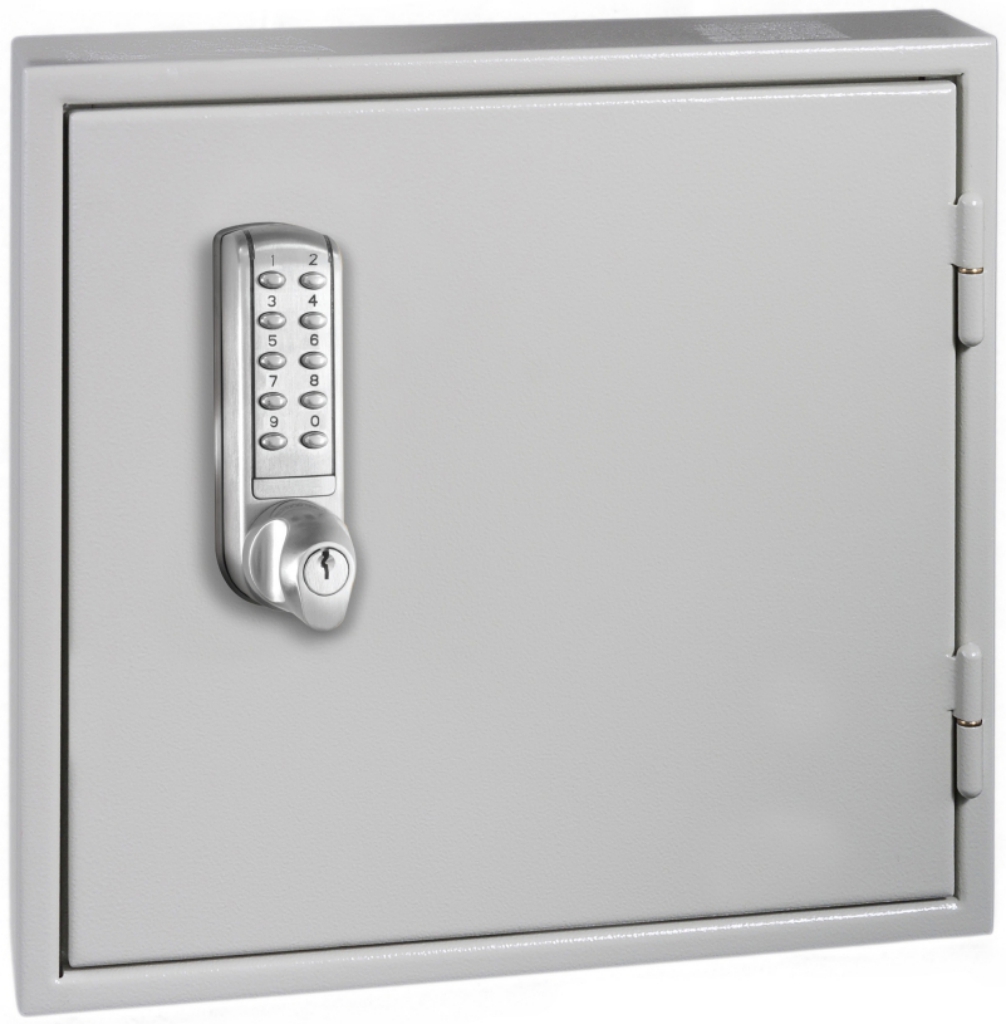 External dim. (HxWxD) 350 x 380 x 80 mm
Weight (kg) 11
Delivery
Delivery
Price

(inc VAT)

UK mainland delivery

Monday - Friday

£0.00
Model range
| Model | Locking type | External dim. (HxWxD) | Internal dim. (HxWxD) | Weight (kg) | Volume (ltr) | Shelf | Key hooks | Price |
| --- | --- | --- | --- | --- | --- | --- | --- | --- |
| |   | | | | | | aantal | inc VAT |
| KC0071E - Key Cabinet | Electronic lock | 350 x 380 x 80 mm | | 11 | | - | 50 | £406.80 |
| KC0071K - Key Cabinet | Cylinder key lock | 350 x 380 x 80 mm | | 11 | | - | 50 | £189.60 |
| KC0071M - Key Cabinet | Mechanical combination lock | 350 x 380 x 80 mm | | 11 | | - | 50 | £298.80 |
| KC0072E - Key Cabinet | Electronic lock | 550 x 380 x 80 mm | | 17 | | - | 100 | £477.60 |
| KC0072K - Key Cabinet | Cylinder key lock | 550 x 380 x 80 mm | | 17 | | - | 100 | £258.00 |
| KC0072M - Key Cabinet | Mechanical combination lock | 550 x 380 x 80 mm | | 17 | | - | 100 | £369.60 |
| KC0073E - Key Cabinet | Electronic lock | 550 x 380 x 140 mm | | 24 | | - | 200 | £640.80 |
| KC0073K - Key Cabinet | Cylinder key lock | 550 x 380 x 140 mm | | 24 | | - | 200 | £422.40 |
| KC0073M - Key Cabinet | Mechanical combination lock | 550 x 380 x 140 mm | | 24 | | - | 200 | £532.80 |
| KC0074E - Key Cabinet | Electronic lock | 550 x 730 x 140 mm | | 35 | | - | 400 | £914.40 |
| KC0074K - Key Cabinet | Cylinder key lock | 550 x 730 x 140 mm | | 35 | | - | 400 | £693.60 |
| KC0074M - Key Cabinet | Mechanical combination lock | 550 x 730 x 140 mm | | 35 | | - | 400 | £804.00 |
| KC0075E - Key Cabinet | Electronic lock | 550 x 730 x 205 mm | | 45 | | - | 600 | £1,082.40 |
| KC0075K - Key Cabinet | Cylinder key lock | 550 x 730 x 205 mm | | 45 | | - | 600 | £862.80 |
| KC0075M - Key Cabinet | Mechanical combination lock | 550 x 730 x 205 mm | | 45 | | - | 600 | £972.00 |
| KC0076E - Key Cabinet | Electronic lock | 1300 x 730 x 250 mm | | 110 | | - | 1000 | £1,712.40 |
| KC0076K - Key Cabinet | Cylinder key lock | 1300 x 730 x 250 mm | | 110 | | - | 1000 | £1,494.00 |
| KC0076M - Key Cabinet | Mechanical combination lock | 1300 x 730 x 250 mm | | 110 | | - | 1000 | £1,604.40 |
| KC0077E - Key Cabinet | Electronic lock | 1500 x 730 x 250 mm | | 130 | | - | 1500 | £1,978.80 |
| KC0077K - Key Cabinet | Cylinder key lock | 1500 x 730 x 250 mm | | 130 | | - | 1500 | £1,758.00 |
| KC0077M - Key Cabinet | Mechanical combination lock | 1500 x 730 x 250 mm | | 130 | | - | 1500 | £1,869.60 |