Phoenix Fire Fox SS1623K Fireproof Document Safe
Phoenix Fire Fox SS1623K Fireproof Document Safe
The Phoenix Firefox is a high security fireproof safe with 120 minutes protection for paper. It has an insurance rating of £2,000 for cash and £20,000 for valuables. It can be anchored to the base for added security.
Alternatives
Product overview
Product Questions
We found other products you might like!
Key Features
High security and fireproof safe for secure storage cash, valuables and paper documents
Suitable for residential and business premises
Certified by ECB.S Security Level S2 according to EN 14450
Cash rating £2,000 / valuables rating £20,000
Certified by SP class 120 Paper according NT Fire 017
120 minutes fire protection for paper (documents, diplomas, certificates, personal files, etc.)
Fire and impact tested from 9.15 metres for resistance to the impact of falling through the burning floors of a building
High security double bitted key lock, 2 keys supplied
3-way solid boltwork with live locking bolts
Double wall construction with high grade concrete barrier for fire and burglary protection
Full width internal lockable drawer, 2 keys included
3 removable shelves included
External dimensions: 1385 x 775 x 650 mm (HxWxD)
Internal dimensions: 1205 x 595 x 440 mm (HxWxD)
Volume: 315 litres
Weight: 330 kg
Colour: Off White
Fixing via 1 x base (1 x fixing bolts supplied)
Pros and Cons
Cash Rating £2,000 / valuables rating £20,000
Supplied with a high security double bitted key lock – 2 keys supplied
120 minutes fire protection for paper documents
3 removable shelves included
Cannot be anchored to the back wall
About the Phoenix Fire Fox SS1623K
The Firefox is an excellent fireproof safe designed for the office to keep paper documents secure.
We have many different sizes and locking types available as seen below to match your requirements.
Technical Details
Specifications
Type of product:
Document Safe
Locking type:
Double bitted key lock
Burglary Certificate:
S1 - EN 14450
Insurance rating (cash / valuables):
£ 2,000 / £ 20,000
Fire standard:
NT Fire 017
Fire Certificate:
120 Paper
Fire Protection for:
Paper
External dim. (HxWxD):
1385 x 775 x 650 mm
Internal dim. (HxWxD):
1205 x 595 x 440
Colours available:
Off white
View scale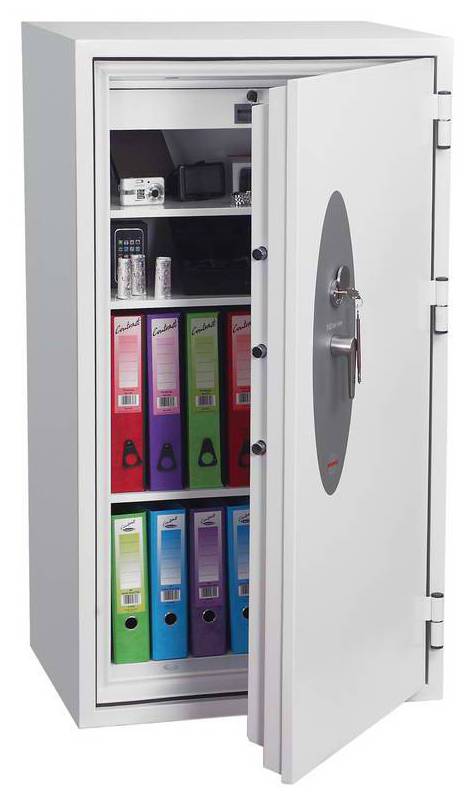 External dim. (HxWxD) 1385 x 775 x 650 mm
Internal dim. (HxWxD) 1205 x 595 x 440
Weight (kg) 368