De Raat DRS Prisma Grade 2 Size 0 High Security Safe
The De Raat DRS Prisma is a high security Eurograde 2 safe that has been tested by ECBS to the security standard of EN1143-1 Grade 2. It has an excellent insurance rating of £17,500 for cash and £175,000 for valuables. It is an ideal safe for any home or business environment.
Free delivery UK mainland
100% secure payments
Customers rate us at 4,8/5,0
Features
High security safe for secure storage of cash and valuables
Certified by ECB.S class CEN Grade I according to EN 1143-1
Cash rating £17,500 / valuables rating £175,000
Double wall construction with fire retardant material (DIN 4102)
High security double bitted key lock, 2 keys supplied (EN 1300 approved)
3-way boltwork with 30 mm live locking bolts
1 removable shelf included
External dimensions: 370 x 410 x 305 mm (HxWxD)
Internal dimensions: 270 x 300 x 145 mm (HxWxD)
Volume: 12 Litres
Weight: 70 kg
Colour: Light Grey
Fixing via base (1 x fixing bolt supplied)
Please add 50 mm to the external depth to include the door handle / hinges
Pros and cons
Approved by AiS (Association of Insurance Surveyors)
Excellent cash and valuables insurance rating
High security EN1300 double bitted key lock (2 keys supplied)
High grade three-way locking bolts
Adjustable shelf included
Limited fire protection
Not the biggest capacity
Expert advice
The De Raat Prisma is a high quality Eurograde safe that is perfect for any home that requires to store cash or high value items. The safe can also be used in any retail business that handles large amounts of cash daily.
Please check your capacity requirements before purchase to see if the safe fits in with what you require.
Scale ratio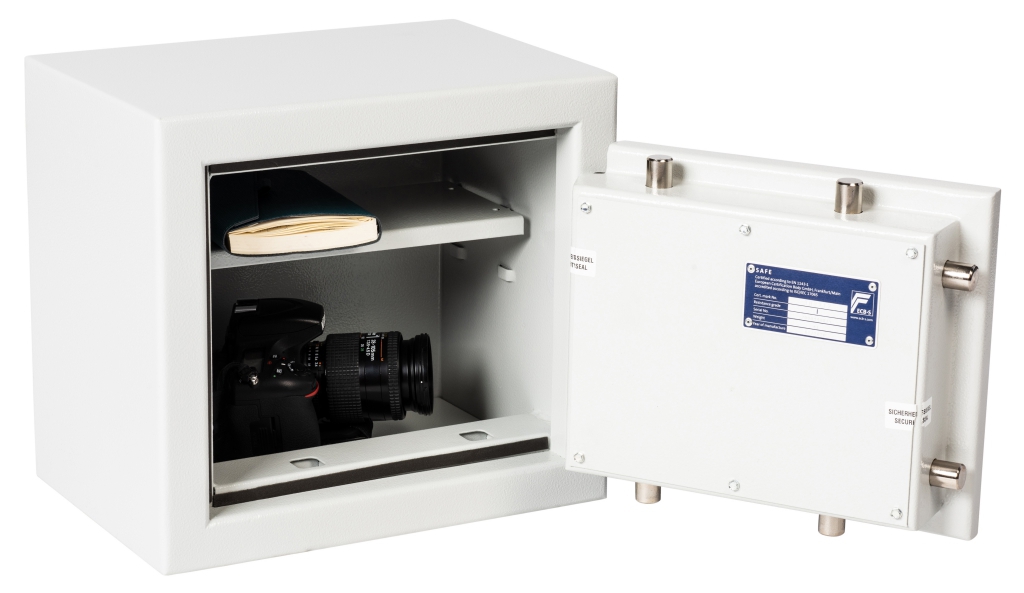 External dim. (HxWxD) 370 x 410 x 305 mm
Internal dim. (HxWxD) 270 x 300 x 145 mm
Weight (kg) 70
Specifications
| | |
| --- | --- |
| Art. No. | 604130000 |
| EAN code | 8712897024312 |
| Brand | De Raat Security |
| Type of product | Eurograde safe |
| Model | Prisma II/0 |
| Locking type | Double bitted key lock |
| Burglary Certificate | Grade II - EN 1143-1 |
| Insurance rating (cash / valuables) | £ 17,500 / £ 175,000 |
Read more specifications
Show less specifications
Delivery
Delivery
Price

(inc VAT)

UK mainland delivery

kerbside drop-off delivery service

UK mainland delivery

kerbside drop-off delivery service

The weight of this product is 70 kg

The weight of this product is 70 kg

Monday - Friday

£0.00
Delivery & Position Services (ground or upper floor via lift)

Professionally installed inside your building on ground floor or any floor with no more than 1 step or a suitable lift

Delivery & Position Services (ground or upper floor via lift)

Professionally installed inside your building on ground floor or any floor with no more than 1 step or a suitable lift

Monday - Friday

£199.00
Full Service Installation (base fix on ground or upper floor via lift)

Professionally installed (delivered, placed and anchored) inside your building on ground floor or any floor with no more than 1 step or a suitable lift

Full Service Installation (base fix on ground or upper floor via lift)

Professionally installed (delivered, placed and anchored) inside your building on ground floor or any floor with no more than 1 step or a suitable lift

Monday - Friday

£309.00
Model range
| Model | Locking type | External dim. (HxWxD) | Internal dim. (HxWxD) | Weight (kg) | Volume (ltr) | Shelf | Price |
| --- | --- | --- | --- | --- | --- | --- | --- |
| |   | | | | | | inc VAT |
| Prisma II/0 | Double bitted key lock | 370 x 410 x 305 mm | 270 x 300 x 145 mm | 70 | 12 | 1 | £919.00 |
| Prisma II/0 Electronic | Electronic lock | 370 x 410 x 305 mm | 270 x 300 x 145 mm | 70 | 12 | 1 | £1,079.00 |
| Prisma II/1 | Double bitted key lock | 450 x 440 x 485 mm | 350 x 330 x 325 mm | 110 | 38 | 1 | £1,059.00 |
| Prisma II/1 | Electronic lock | 450 x 440 x 485 mm | 350 x 330 x 325 mm | 110 | 38 | 1 | £1,219.00 |
| Prisma II/2 | Double bitted key lock | 620 x 440 x 485 mm | 520 x 330 x 325 mm | 139 | 56 | 1 | £1,209.00 |
| Prisma II/3 | Double bitted key lock | 800 x 440 x 485 mm | 700 x 330 x 325 mm | 168 | 75 | 1 | £1,329.00 |
| Prisma II/4 | Double bitted key lock | 970 x 440 x 485 mm | 870 x 330 x 325 mm | 196 | 93 | 2 | £1,489.00 |
| Prisma II/5 | Double bitted key lock | 1150 x 590 x 525 mm | 1050 x 480 x 365 mm | 280 | 184 | 2 | £1,849.00 |
| Prisma II/6 | Double bitted key lock | 1500 x 590 x 525 mm | 1400 x 480 x 365 mm | 350 | 245 | 3 | £2,099.00 |