If you are looking for a safe you will undoubtedly have come across the term DIN 4102. This term is incorrectly used in many safes, and is referred to as a fire-resistant classification. In some cases, even 30 minutes of fire safety is claimed.
Fire resistant tests show that such a construction does not provide fire safety for paper documents or other valuable property. Reason for us to inform you further about this phenomenon that 'safe marketers' are very busy with.
---
What is DIN 4102?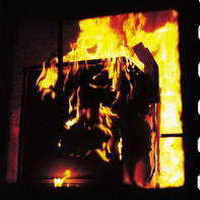 DIN stands for "Deutsches Institut für Normung", meaning "German institute for standardisation". It is a German national body that deals with the most diverse standard subjects. The DIN institute has drawn up requirements for the fire safety of materials that can be found within Europe, namely the DIN 4102.
DIN 4102 takes into account all properties with regard to the reaction to fire of materials, such as flammability / non-flammability, heat release, flammability, flame spread rate at the material surface and smoke development. During a fire test, the flammability of different materials was determined and classified into different classes A1 (non-flammable) to B3 (highly flammable).
---
What is the meaning of fire resistant DIN 4102 in a safe?
If a safe manufacturer uses a non-flammable or flame-resistant filling material from the DIN standard, we can already speak of fire safety in accordance with DIN 4102. In practice, double-walled safes are filled with a material, such as Rockwool, as a fire-resistant filling or insulation material. . However ,
DIN 4102 is not a standard for safes!
Safe constructions according to DIN 4102 are not tested in a fire!
Fire safety of a safe according to DIN 4102 is very limited; in a fire just minutes!
Note
A safe with a DIN4102 construction is by definition not a bad safe. It is actually a simple and cheap way of the manufacturer to provide a safe with (some) fire retardant protection. Marketing is happy to respond to this and claims fire safety for up to 30 minutes. When we talk about fire safety in safes, this is actually not correct.
Correct is the construction as such, is tested in controlled conditions, and the temperature throughout remains within the vault below the limit of 177 ° C for 30 minutes.
Many burglar-resistant safes are constructed in this way. During the manufacturing process, the walls are filled with fire retardant material. This also ensures that the (burglar-resistant) safe sounds less hollow and 'metallic'.
When we talk about fire-resistant safes or safes, we mean a safe with real fire safety.
---
Which safes are really fire resistant?
A good fire-resistant safe construction is characterized by the fact that the filling material absorbs (heat) energy. A fire-resistant safe must ensure that the internal temperature remains below a certain threshold for a certain time (usually 30, 60, 90 or 120 minutes). The critical limit is 177 ° C for paper (records, diplomas, certificates, etc.) and 52 ° C for data media (backup tapes, microfilms, USB sticks, CDs, DVDs, etc . ).
With data media it is also important that the relative humidity should not exceed 85% because at higher values ​​data media will no longer be usable.
Really fire-resistant safes are safes that have been tested and certified. The most stringent standard for fire-resistant safes is the European standard EN 1047-1. This standard tests at very high temperatures, a mandatory drop test and a cooling down period are part of the test procedure.
Then there are a number of other common standards in the safe industry that are applied. For example, testing is done under less severe conditions, such as a lower temperature, or the drop test or cooling period is missing. In many situations this may be sufficient, making the requirements more limited and making the construction cheaper. This of course benefits the purchase price.
---
Table fire resistant standards document and data safes
 Norm
Temperature  duration test
Drop test 
Cooling off period
Paper
Data media

EN 1047-1
1090 ° C
yes, 9.15 m
with cooling period

S60P (1 hour)
S120P (2 hours)

S60DIS (1 hour)
S120DIS (2 hours)

EN 15659
850 ° C
No
not tested

LFS30P (½ hour)
LFS60P (1hr)

 not tested
UL 72  1)
1000 ° C
yes, 9 m
with cooling period

Class 350 - ½hr (½ hour)
Class 350 - 1hr (1 hour)
Class 350 - 2hr (2 hours)

Class 125 - ½hr (½ hour)
Class 125 - 1hr (1 hour)
Class 125 - 2hr (2 hours)

NT Fire 017
1090 ° C
No
not tested

60Paper (1hr)
120Paper (2 hours)

60Diskette (1hr)
120Diskette (2 hours)

JIS (S1037)
927 ° C
yes, 4 m
not tested

JIS 60P (1hr)
JIS 120P (2hrs)

not tested
GB16810-1997
945 ° C
No
not tested
not tested
ETL
 760 ° C
yes, 4.5 m
not tested
not tested

½-hour (½ hour)
1 hour (1 hour)
2-hour (2 hours)

MTS DIP 120-60DM  2)
945 ° C
No
not tested
not tested
DIN 4102 3)
 not tested
No
not tested
not tested
 not tested
1) With UL 72 standard, a drop test (extra heavy test) is not required
2) MTS DIP is an in-house test by the manufacturer
3) With DIN 4102 nothing is tested
---
The boxes, document safes, drawers and data safes below are truly fire resistant.
Would you like more information about fire resistant safes ? Have a look at our fireproof safes or contact us for further information and advice.