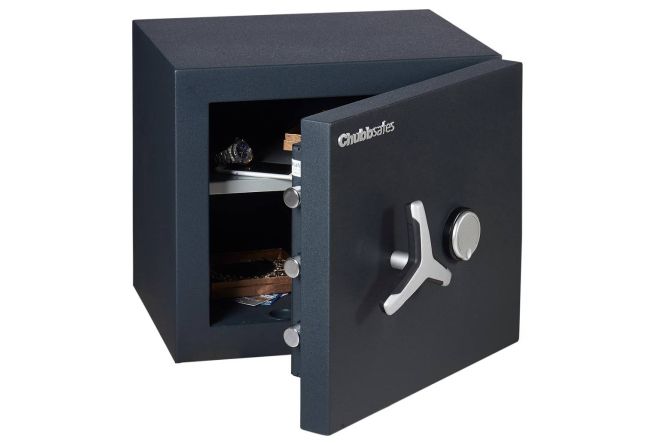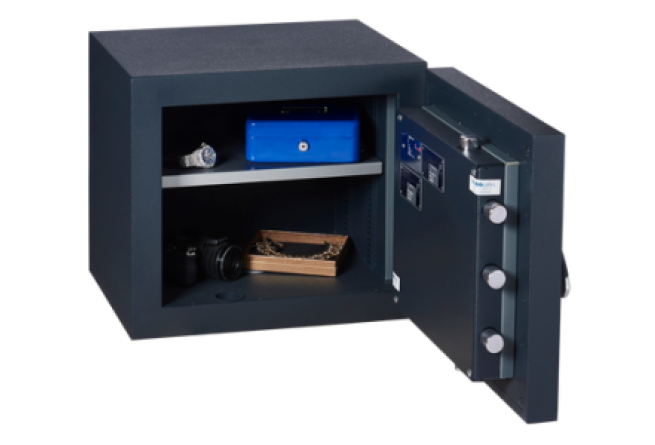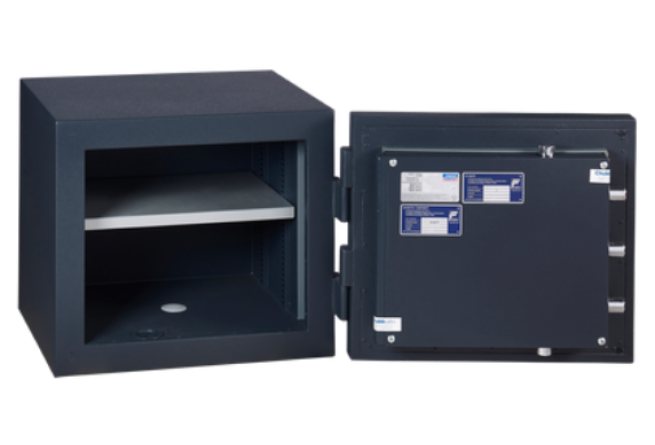 Chubbsafes DuoGuard Grade 1-40K High Security and Fireproof Safe
The Chubbsafes Duoguard is a high security safe that offers 60 minutes fire protection for paper. It has been certified as Eurograde 1 standard and offers an insurance rating of £10,000 for cash and £100,000 for valuables.
Free delivery UK mainland
100% secure payments
Customers rate us at 4,8/5,0
Features
High security and fireproof safe for cash, valuables and paper documents
Modern design with an ergonomic soft-touch handle
Certified by ECB.S class CEN Grade I according to EN 1143-1
Cash rating £10,000 / valuables rating £100,000
Certified by ECB.S class S60P according EN 1047-1
60 minutes fire protection for paper (documents, diplomas, certificates, personal files, etc.)
High security double bitted key lock, 2 keys supplied (EN 1300 approved)
3-way boltwork with live locking bolts
Fitted with active relocker, anti-drilling plates and T200X carbide-clad steel
1 removable shelf included
Special light weight Dualite torch-resistant barrier material
External dimensions: 435 x 500 x 456 mm (HxWxD)
Internal dimensions: 335 x 400 x 295 mm (HxWxD)
Volume: 40 litres
Weight: 100 kg
Colour: Anthracite
Fixing via 1 x base (1 x mechanical anchor supplied)
Please add 60 mm to the external depth to include the door handle / hinges
Pros and cons
Certified Eurograde 1
60 minutes fire protection
Fitted with anti-drilling plates
Removable shelf included
Cannot be anchored to the wall
Expert advice
The Duoguard is an excellent safe for any business or home to protect large amounts of cash and valuables.
It has 60 minutes fire protection and comes with a great insurance rating.
Scale ratio
External dim. (HxWxD) 435 x 500 x 456 mm
Internal dim. (HxWxD) 335 x 400 x 295 mm
Weight (kg) 90 kg
Product Questions
How do I install a safe to the floor?
Question by: Simon Turner on 1 July 2015
Specifications
| | |
| --- | --- |
| Art. No. | 1001002601 |
| EAN code | 5055409506597 |
| Brand | Chubbsafes |
| Type of product | Eurograde safe |
| Model | DuoGuard I-40K |
| Locking type | Double bitted key lock |
| Burglary Certificate | Grade I - EN 1143-1 |
| Insurance rating (cash / valuables) | £ 10,000 / £ 100,000 |
Read more specifications
Show less specifications
Delivery
Delivery
Price

(inc VAT)

UK mainland delivery

kerbside drop-off delivery service

UK mainland delivery

kerbside drop-off delivery service

The weight of this product is 90 kg

The weight of this product is 90 kg

Monday - Friday

£0.00
Full Service Installation (base fix on ground or upper floor via lift)

Professionally installed (delivered, placed and anchored) inside your building on ground floor or any floor with no more than 1 step or a suitable lift

Full Service Installation (base fix on ground or upper floor via lift)

Professionally installed (delivered, placed and anchored) inside your building on ground floor or any floor with no more than 1 step or a suitable lift

Monday - Friday

£199.00
Model range
| Model | Locking type | External dim. (HxWxD) | Internal dim. (HxWxD) | Weight (kg) | Volume (ltr) | Shelf | Price |
| --- | --- | --- | --- | --- | --- | --- | --- |
| |   | | | | | | inc VAT |
| DuoGuard I-115E | Electronic lock | 690 x 600 x 561 mm | 590 x 500 x 386 mm | 161 kg | 114 | 2 | £2,229.00 |
| DuoGuard I-115K | Double bitted key lock | 690 x 600 x 561 mm | 590 x 500 x 386 mm | 161 kg | 114 | 2 | £1,989.00 |
| DuoGuard I-150E | Electronic lock | 875 x 600 x 561 mm | 775 x 500 x 386 mm | 196 kg | 150 | 2 | £2,409.00 |
| DuoGuard I-150K | Double bitted key lock | 875 x 600 x 561 mm | 775 x 500 x 386 mm | 196 kg | 150 | 2 | £2,169.00 |
| DuoGuard I-205E | Electronic lock | 1150 x 600 x 561 mm | 1050 x 500 x 386 mm | 243 kg | 203 | 2 | £2,639.00 |
| DuoGuard I-205K | Double bitted key lock | 1150 x 600 x 561 mm | 1050 x 500 x 386 mm | 243 kg | 203 | 2 | £2,389.00 |
| DuoGuard I-290E | Electronic lock | 1600 x 600 x 561 mm | 1500 x 500 x 386 mm | 322 kg | 290 | 3 | £2,799.00 |
| DuoGuard I-290K | Double bitted key lock | 1600 x 600 x 561 mm | 1500 x 500 x 386 mm | 322 kg | 290 | 3 | £2,559.00 |
| DuoGuard I-355E | Electronic lock | 1600 x 675 x 585 mm | 1500 x 575 x 410 mm | 352 kg | 354 | 3 | £3,059.00 |
| DuoGuard I-355K | Double bitted key lock | 1600 x 675 x 585 mm | 1500 x 575 x 410 mm | 352 kg | 354 | 3 | £2,809.00 |
| DuoGuard I-40E | Electronic lock | 435 x 500 x 456 mm | 335 x 400 x 295 mm | 100 kg | 40 | 1 | £1,549.00 |
| DuoGuard I-40K | Double bitted key lock | 435 x 500 x 456 mm | 335 x 400 x 295 mm | 90 kg | 40 | 1 | £1,309.00 |
| DuoGuard I-445K | Double bitted key lock | 1600 x 675 x 585 mm | 1500 x 575 x 410 mm | 415 kg | 443 | 4 | £3,359.00 |
| DuoGuard I-445E | Electronic lock | 1850 x 675 x 615 mm | 1750 x 575 x 440 mm | 415 kg | 443 | 4 | £3,599.00 |
| DuoGuard I-60E | Electronic lock | 530 x 500 x 521 mm | 430 x 400 x 360 mm | 115 kg | 62 | 1 | £1,739.00 |
| DuoGuard I-60K | Double bitted key lock | 530 x 500 x 521 mm | 430 x 400 x 360 mm | 115 kg | 62 | 1 | £1,499.00 |