Chubbsafes DataGuard NT Size 50E High Security Data Safe
The Chubbsafes Data Guard is a high security data safe that has 120 minutes fire protection for data media. It is an ideal safe for any business that requires to store large amounts of data securely.
Free delivery UK mainland
100% secure payments
Customers rate us at 4,8/5,0
Features
Fireproof safe for data media (backup tapes, CD's, DVD's, USB sticks, hard disks, microfilms, etc.)
Suitable for business premises which require large volume storage
Certified by SP class 120 Diskette according NT Fire 017
120 minutes fire protection for data media (back up tapes, USB sticks, hard disks, microfilm, etc.)
High security electronic lock
Easy slam action emergency closing in event of a fire
1 removable shelf included
External dimensions: 700 x 546 x 566 mm (HxWxD)
Internal dimensions: 450 x 346 x 306 mm (HxWxD)
Volume: 48 litres
Weight: 190 kg
Colour: Light Grey
Standard no fixing option
Pros and cons
120 minutes fire protection
Certified by SP class 120
High security electronic lock
1 removable shelf included
Expert advice
The Data Guard is a secure data safe that offers a good level of fire protection of 120 minutes.
We have different sizes and lock types available for the data guard further down the page if required.
Scale ratio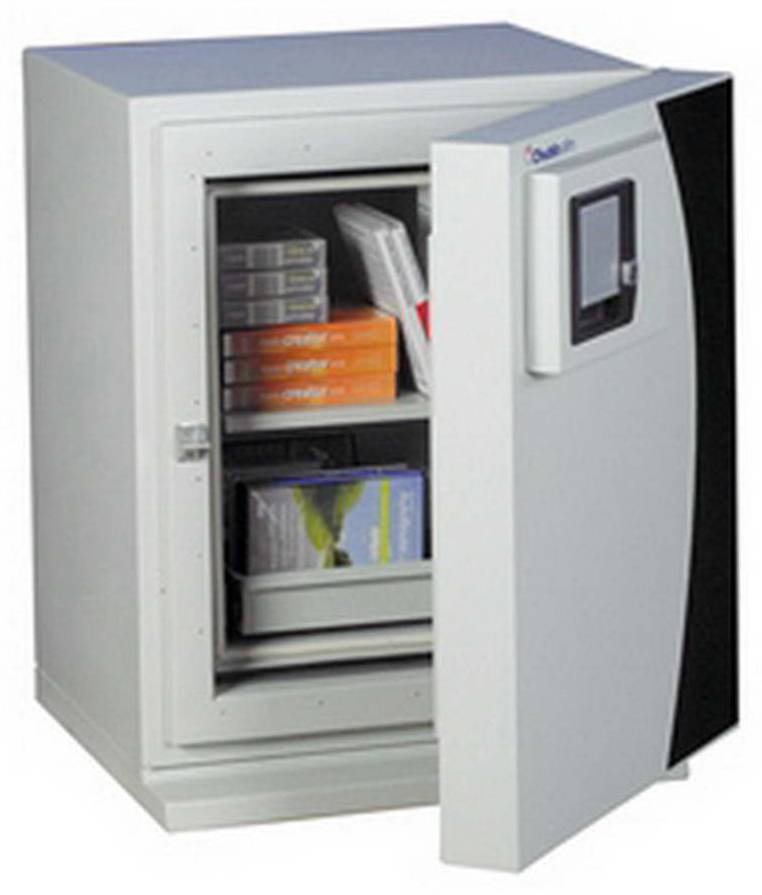 External dim. (HxWxD) 700 x 546 x 566 mm
Internal dim. (HxWxD) 450 x 346 x 306 mm
Weight (kg) 190
Delivery
Delivery
Price

(inc VAT)

UK mainland delivery

kerbside drop-off delivery service

UK mainland delivery

kerbside drop-off delivery service

The weight of this product is 190 kg

The weight of this product is 190 kg

Monday - Friday

£0.00
Model range
| Model | Locking type | External dim. (HxWxD) | Internal dim. (HxWxD) | Weight (kg) | Volume (ltr) | Shelf | Price |
| --- | --- | --- | --- | --- | --- | --- | --- |
| |   | | | | | | inc VAT |
| DataGuard NT 130 K | Double bitted key lock | 1025 x 702 x 590 mm | 775 x 502 x 330 mm | 330 | 128 | 2 | £2,059.00 |
| DataGuard NT 30 K | Double bitted key lock | 530 x 546 x 566 mm | 280 x 346 x 306 mm | 145 | 30 | 1 | £1,119.00 |
| DataGuard NT 50 K | Double bitted key lock | 700 x 546 x 566 mm | 450 x 346 x 306 mm | 190 | 48 | 1 | £1,299.00 |
| DataGuard NT 90 K | Double bitted key lock | 1025 x 546 x 590 mm | 775 x 346 x 306 mm | 263 | 89 | 2 | £1,679.00 |
| DataGuard NT 130 E | Electronic lock | 1025 x 702 x 590 mm | 775 x 502 x 330 mm | 330 | 128 | 2 | £2,159.00 |
| DataGuard NT 30 E | Electronic lock | 530 x 546 x 566 mm | 280 x 346 x 306 mm | 145 | 30 | 1 | £1,269.00 |
| DataGuard NT 50 E | Electronic lock | 700 x 546 x 566 mm | 450 x 346 x 306 mm | 190 | 48 | 1 | £1,449.00 |
| DataGuard NT 90 E | Electronic lock | 1025 x 546 x 590 mm | 775 x 346 x 306 mm | 263 | 89 | 2 | £1,909.00 |