Burton Firesec 10/60 2K High Security and Fireproof Safe
Burton Firesec 10/60 2K High Security and Fireproof Safe
The Burton Firesec is a high security fireproof safe with 60 minutes fire protection. It has an insurance rating of £10,000 for cash and £100,000 for valuables. It can be anchored to the base for added security.
Product overview
Product Questions
Model range
Key features
High security and fireproof safe for cash, valuables and documents
Certified by ECB.S class CEN Grade I according to EN 1143-1
Cash rating £10,000 / valuables rating £100,000
Certified by ECB.S class LFS60P according EN 15659
60 minutes fire protection for paper (documents, diplomas, certificates, personal files, etc.)
High security double bitted key lock, 2 keys supplied (EN 1300 approved)
2 programmable codes: 1 mastercode + 1 usercode
3-way boltwork with solid steel 24 mm diamter live locking bolts
Additional protection by manganese steel anti-drilling plate and active re-locking device
1 removable shelf included
External dimensions: 750 x 555 x 445 mm (HxWxD)
Internal dimensions: 335 x 410 x 390 mm (HxWxD)
Volume: 93 litres
Weight: 195 kg
Colour: Anthracite
Fixing via 2 x base (2 x fixing bolts supplied)
Pro and cons
Cash Rating £10,000 / valuables rating £100,000
High security double bitted lock – 2 keys supplied
Eurograde 1 and insurance approved
1 removable shelf included
Cannot be anchored to the back wall
About the Burton Firesec 10/60 size 2K
The Firesec is a well-constructed high security safe with an excellent insurance rating for cash and valuables.
It is ideal for any home or business that requires to store valuables or large amounts of cash.
Technical details
Specifications
Art. No.:
FIRESEC 10/60-2
Model:
FIRESEC 10/60SIZE 2 K
Locking type:
Double bitted key lock
Burglary Certificate:
Grade I - EN 1143-1
Insurance rating (cash / valuables):
£ 10,000 / £ 100,000
Suitable for:
Cash, Juwelry / Valualbles, Paper documents
Fire Protection for:
Paper
External dim. (HxWxD):
750 x 555 x 445 mm
Internal dim. (HxWxD):
335 x 410 x 390 mm
Colours available:
Anthracite
View scale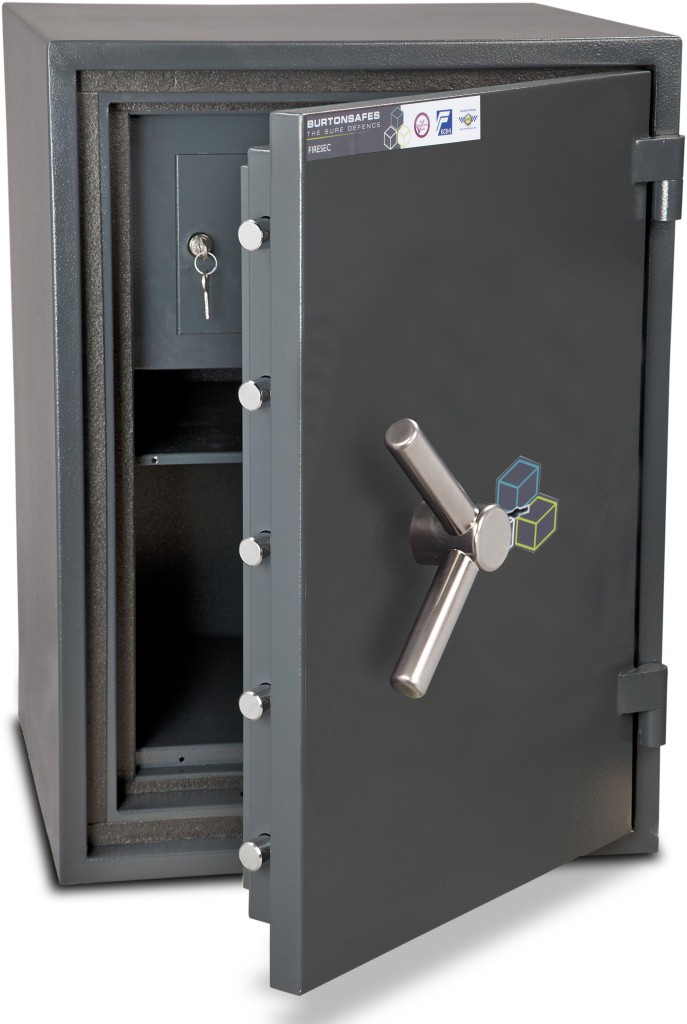 External dim. (HxWxD) 750 x 555 x 445 mm
Internal dim. (HxWxD) 335 x 410 x 390 mm
Weight (kg) 195
Product Questions
Can you arrange installation to an upper floor via stairs?
Model range
| Model | Locking type | External dim. (HxWxD) | Internal dim. (HxWxD) | Weight (kg) | Volume (ltr) | Shelf | Price |
| --- | --- | --- | --- | --- | --- | --- | --- |
| |   | | | | | | inc VAT |
| FIRESEC 10/60SIZE 1 E | Electronic lock | 490 x 480 x 445 mm | 330 x 330 x 290 mm | 101 | 31 | 1 | £1,719.00 |
| FIRESEC 10/60SIZE 1 K | Double bitted key lock | 490 x 480 x 445 mm | 330 x 330 x 290 mm | 101 | 31 | 1 | £1,459.00 |
| FIRESEC 10/60SIZE 2 E | Electronic lock | 750 x 555 x 545 mm | 335 x 410 x 390 mm | 195 | 93 | 1 | £2,089.00 |
| FIRESEC 10/60SIZE 2 K | Double bitted key lock | 750 x 555 x 445 mm | 335 x 410 x 390 mm | 195 | 93 | 1 | £1,829.00 |
| FIRESEC 10/60SIZE 3 E | Electronic lock | 1100 x 555 x 550 mm | 705 x 510 x 390 mm | 271 | 148 | 1 | £2,709.00 |
| FIRESEC 10/60SIZE 3 K | Double bitted key lock | 1100 x 555 x 550 mm | 705 x 510 x 390 mm | 271 | 148 | 1 | £2,449.00 |
| FIRESEC 10/60SIZE 4 E | Electronic lock | 1950 x 940 x 585 mm | 1760 x 800 x 390 mm | 658 | 549 | 4 | £5,739.00 |
| FIRESEC 10/60SIZE 4 K | Double bitted key lock | 1950 x 940 x 585 mm | 1760 x 800 x 390 mm | 658 | 549 | 4 | £5,479.00 |