BurgWachter Office 806 E FP High Security Safe
BurgWachter Office 806 E FP High Security Safe
The BurgWachter Office is a high security safe that is perfect for any office environment that requires to store cash, valuables and important documents. It can also be installed into the base for added security.
Product overview
Product Questions
Model range
Key features
High security safe for cash and valuables
Cash rating £2,000 / valuables rating £20,000
High security digital electronic lock (EN 1300 approved)
Lock includes 1 changeable user code. Proction against manipulation: lock is blocked during 5 minutes after 3 incorrect pincodes
Double wall construction with concealed internal hinges for increased security
3-way boltwork with 28 mm diameter live locking bolts
Added protection by manganese steel anti-drilling plates on the lock and bolt work
3 removable shelves included
External dimensions: 1486 x 780 x 554 mm (HxWxD)
Internal dimensions: 1336 x 498 x 370 mm (HxWxD)
Volume: 315 litres
Weight: 300 kg
Colour: Light Grey
Requires installation within a base (1x mechanical anchor supplied)
Pro and cons
Double walled construction
Cash Rating £2,000 / valuables rating £20,000
High security electronic lock with fingerprint module
28mm thick round bolts
About the BurgWachter Office 806 E FP
The OfficeLine series offers a great selection of different sizes and locking type variations.
Please see our other sizes available to match your specific requirements.
Technical details
Specifications
Type of product:
Eurograde safe
Locking type:
Electronic lock with fingerscan
External dim. (HxWxD):
1486 x 780 x 554 mm
Internal dim. (HxWxD):
1336 x 498 x 370 mm
Colours available:
Light grey
View scale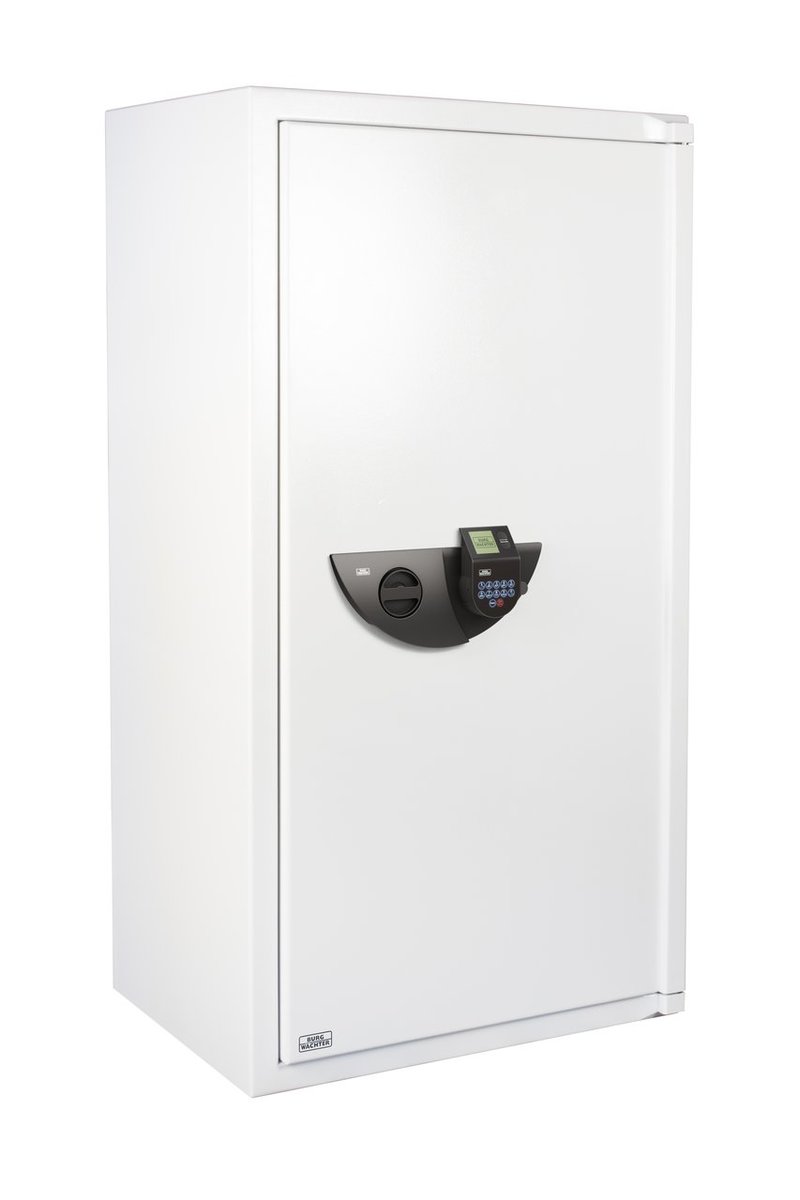 External dim. (HxWxD) 1486 x 780 x 554 mm
Internal dim. (HxWxD) 1336 x 498 x 370 mm
Weight (kg) 300
Model range
| Model | Locking type | External dim. (HxWxD) | Internal dim. (HxWxD) | Weight (kg) | Volume (ltr) | Shelf | Price |
| --- | --- | --- | --- | --- | --- | --- | --- |
| |   | | | | | | inc VAT |
| Office 801 E FP | Electronic lock with fingerscan | 626 x 641 x 554 mm | 476 x 498 x 370 mm | 110 | 87 | 1 | £1,439.00 |
| Office 801 K | Double bitted key lock | 626 x 641 x 554 mm | 476 x 498 x 370 mm | 110 | 87 | 1 | £1,189.00 |
| Office 802 E FP | Electronic lock with fingerscan | 816 x 641 x 554 mm | 666 x 498 x 370 mm | 126 | 122 | 1 | £1,909.00 |
| Office 802 K | Double bitted key lock | 816 x 641 x 554 mm | 666 x 498 x 370 mm | 126 | 122 | 1 | £1,659.00 |
| Office 802 K 300 | Double bitted key lock | 816 x 641 x 554 mm | 666 x 498 x 370 mm | 300 | 122 | 1 | £1,849.00 |
| Office 804 E FP | Electronic lock with fingerscan | 1096 x 641 x 554 mm | 964 x 498 x 370 mm | 163 | 174 | 2 | £2,529.00 |
| Office 804 K | Double bitted key lock | 1096 x 641 x 554 mm | 964 x 498 x 370 mm | 163 | 174 | 2 | £2,269.00 |
| Office 806 E FP | Electronic lock with fingerscan | 1486 x 780 x 554 mm | 1336 x 498 x 370 mm | 300 | 315 | 3 | £3,579.00 |
| Office 806 K | Double bitted key lock | 1486 x 780 x 554 mm | 1336 x 498 x 370 mm | 300 | 315 | 3 | £3,329.00 |