BurgWachter PointSafe PW2E Wall Safe
The PW2E Point Safe wall safe from Burg Wachter is one of the most popular in the range and is ideal for small items such as passports and jewellery. It is designed to installed within a wall and has a cash rating of £1,000 or £10,000 for valuables.
This model features an electronic lock which is powered by batteries and it also has emergency keys provided incase you get locked out. 
Free delivery UK mainland
100% secure payments
Customers rate us at 4,8/5,0
Features
Electronic locking mechanism powered by batteries - included
Emergency key override in case of lock out
Rating of £1,000 for cash & £10,000 for valuables
22m Diameter locking bolts secure the door
Constructed from 2mm thick steel on the body and 6mm thick door
Concealed internal hinges
Easily concealed and hidden from views
Designed to be set in re-enforced concrete inside a wall
External Dimensions: 220mm x 340mm x 140mm (HxWxD)
Internal Dimensions: 177mm x 298mm x 85mm (HxWxD)
Add 15mm to the depth to include the keypad
Weight: 10.2kg
Capacity: 4.5 Litres
Pros and cons
Good value for money
Cash rating £1,000 / valuables rating £10,000
22mm locking bolts
Concealed internal hinges
Lightweight
Expert advice
The BurgWachter Wall Pointsafe is a budget safe that offers basic protection for small cash amounts and valuables. There are more sizes available in this range to meet your requirements.
Please see our attached documents for help with wall installation.
Scale ratio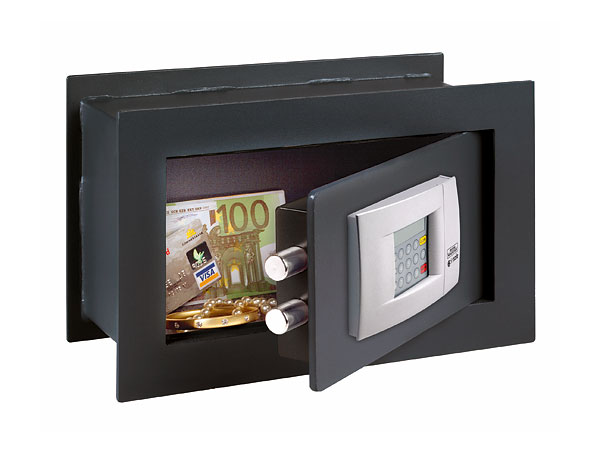 External dim. (HxWxD) 220 x 340 x 140 mm
Internal dim. (HxWxD) 177 x 298 x 85 mm
Weight (kg) 10.2
Customer Reviews
-

By Ray posted on 20/04/2015

Great little safe, sits perfectly in the wall and electronic lock is easy to use. Door opens automatically when you punch a code in which I did not expect but nice to have.
Specifications
| | |
| --- | --- |
| Art. No. | PW 2 E |
| EAN code | 4003482249604 |
| Brand | BurgWachter |
| Type of product | Wall safe |
| Model | PointSafe PW2E |
| Locking type | Electronic lock |
| External dim. (HxWxD) | 220 x 340 x 140 mm |
| Internal dim. (HxWxD) | 177 x 298 x 85 mm |
Read more specifications
Show less specifications
Delivery
Delivery
Price

(inc VAT)

UK mainland delivery

Monday - Friday

£0.00
Model range
| Model | Locking type | External dim. (HxWxD) | Internal dim. (HxWxD) | Weight (kg) | Volume (ltr) | Shelf | Price |
| --- | --- | --- | --- | --- | --- | --- | --- |
| |   | | | | | | inc VAT |
| PointSafe PW1S | Double bitted key lock | 180 x 260 x 150 mm | 150 x 230 x 100 mm | 7 | 3.5 | | £66.00 |
| PointSafe PW2E | Electronic lock | 220 x 340 x 140 mm | 177 x 298 x 85 mm | 10.2 | 4.5 | | £118.80 |
| PointSafe PW2S | Double bitted key lock | 220 x 340 x 140 mm | 177 x 298 x 85 mm | 10.2 | 4.5 | | £82.80 |
| PointSafe PW3E | Electronic lock | 260 x 390 x 195 mm | 213 x 345 x 140 mm | 15 | 10.3 | | £142.80 |
| PointSafe PW3S | Double bitted key lock | 260 x 390 x 195 mm | 215 x 345 x 140 mm | 15 | 10.3 | | £102.00 |