Securikey Euro Grade 1-410E High Security Safe
The Securikey eurograde range has a modern design and has been manufactured in accordance with EN1143. The eurograde 1 offers 30 minutes fire protection at 750°C and comes equipped with a high security digital electronic lock. Can also be anchored to the floor or wall.
Free delivery UK mainland
100% secure payments
Customers rate us at 4,8/5,0
Features
High security safe for secure storage of cash and valuables
Certified class CEN Grade I according to EN 1143-1
Cash rating £10,000 / valuables rating £100,000
High security digital electronic lock (EN 1300 approved)
Lock includes 2 free programmable codes: 1 mastercode + 1 usercode, external power supply on keypad (outside of safe)
3-way boltwork with live steel locking bolts and continuous hinge protection
External dimensions: 1475 x 765 x 535 mm (HxWxD)
Internal dimensions: 1399 x 705 x 415 mm (HxWxD)
Volume: 409 litres
Weight: 375 kg
Colour: Light Grey
Fixing via base / back wall (4 x fixing bolts supplied)
Pros and cons
Manufactured in accordance with EN1143 certification
Adjustable shelves included
Safe door opens to 205° for greater access.
1 mastercode + 1 usercode on digital electronic lock
Modern design
Expert advice
The Eurograde from Securikey is a high quality safe with an excellent cash and valuables insurance rating.
We have many different sizes available to match your requirements along with key or electronic locking versions.
Scale ratio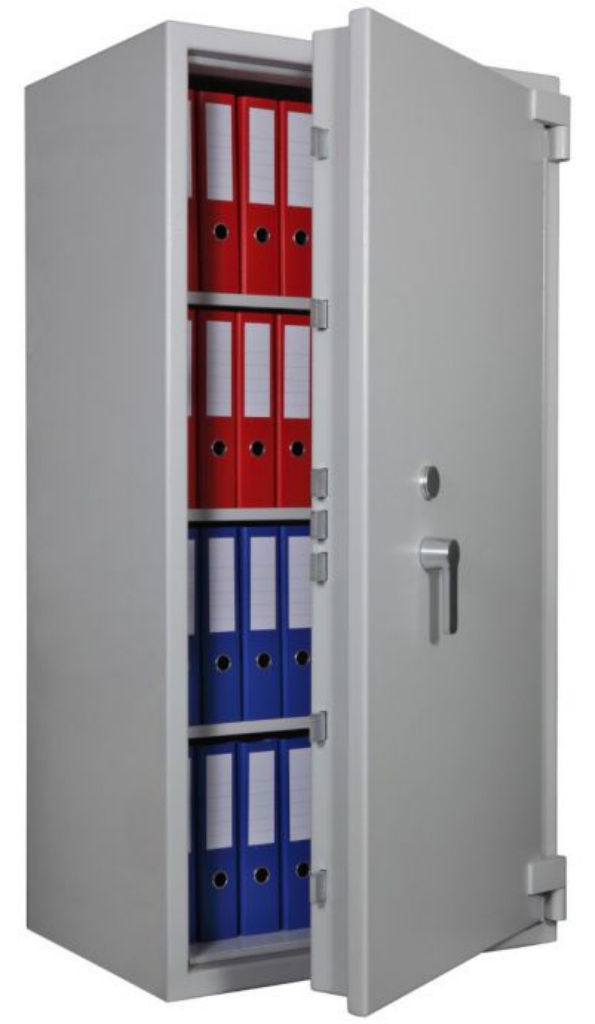 External dim. (HxWxD) 1475 x 765 x 535 mm
Internal dim. (HxWxD) 1399 x 705 x 415 mm
Weight (kg) 375
Specifications
| | |
| --- | --- |
| Art. No. | SFEG1410NZE |
| Brand | Securikey |
| Type of product | Eurograde safe |
| Model | 1-410E |
| Locking type | Electronic lock |
| Burglary Certificate | Grade I - EN 1143-1 |
| Insurance rating (cash / valuables) | £ 10,000 / £ 100,000 |
| External dim. (HxWxD) | 1475 x 765 x 535 mm |
Read more specifications
Show less specifications
Delivery
Delivery
Price

(inc VAT)

UK mainland delivery

kerbside drop-off delivery service

UK mainland delivery

kerbside drop-off delivery service

The weight of this product is 375 kg

The weight of this product is 375 kg

Monday - Friday

£0.00
Delivery & Position Services (ground or upper floor via lift)

Professionally installed inside your building on ground floor or any floor with no more than 1 step or a suitable lift

Delivery & Position Services (ground or upper floor via lift)

Professionally installed inside your building on ground floor or any floor with no more than 1 step or a suitable lift

£369.00
Full Service Installation (base fix on ground or upper floor via lift)

Professionally installed (delivered, placed and anchored) inside your building on ground floor or any floor with no more than 1 step or a suitable lift

Full Service Installation (base fix on ground or upper floor via lift)

Professionally installed (delivered, placed and anchored) inside your building on ground floor or any floor with no more than 1 step or a suitable lift

£489.00
Model range
| Model | Locking type | External dim. (HxWxD) | Internal dim. (HxWxD) | Weight (kg) | Volume (ltr) | Shelf | Price |
| --- | --- | --- | --- | --- | --- | --- | --- |
| |   | | | | | | inc VAT |
| 1-015E | Electronic lock | 410 x 335 x 300 mm | 334 x 275 x 180 mm | 55 | 17 | 1 | £1,039.00 |
| 1-015K | Double bitted key lock | 410 x 335 x 300 mm | 334 x 275 x 180 mm | 55 | 17 | 1 | £799.00 |
| 1-025E | Electronic lock | 410 x 415 x 345 mm | 334 x 355 x 225 mm | 75 | 27 | 1 | £1,089.00 |
| 1-025K | Double bitted key lock | 410 x 415 x 345 mm | 334 x 355 x 225 mm | 75 | 27 | 1 | £849.00 |
| 1-035E | Electronic lock | 410 x 415 x 425 mm | 334 x 355 x 305 mm | 85 | 36 | 1 | £1,259.00 |
| 1-035K | Double bitted key lock | 410 x 415 x 425 mm | 334 x 355 x 305 mm | 85 | 36 | 1 | £1,019.00 |
| 1-055E | Electronic lock | 585 x 415 x 425 mm | 509 x 355 x 305 mm | 105 | 55 | 1 | £1,509.00 |
| 1-055K | Double bitted key lock | 585 x 415 x 425 mm | 509 x 355 x 305 mm | 105 | 55 | 1 | £1,259.00 |
| 1-085E | Electronic lock | 585 x 515 x 495 mm | 509 x 455 x 375 mm | 130 | 87 | 1 | £1,709.00 |
| 1-085K | Electronic lock | 585 x 515 x 495 mm | 509 x 455 x 375 mm | 130 | 87 | 1 | £1,469.00 |
| 1-095E | Electronic lock | 770 x 515 x 425 mm | 694 x 455 x 305 mm | 155 | 96 | 1 | £1,969.00 |
| 1-095K | Double bitted key lock | 770 x 515 x 425 mm | 694 x 455 x 305 mm | 155 | 96 | 1 | £1,729.00 |
| 1-120E | Electronic lock | 940 x 515 x 425 mm | 864 x 455 x 305 mm | 180 | 120 | 2 | £2,179.00 |
| 1-120K | Double bitted key lock | 940 x 515 x 425 mm | 864 x 455 x 305 mm | 180 | 120 | 2 | £1,939.00 |
| 1-180E | Electronic lock | 1120 x 515 x 495 mm | 1044 x 455 x 375 mm | 225 | 178 | 2 | £2,409.00 |
| 1-180K | Double bitted key lock | 1120 x 515 x 495 mm | 1044 x 455 x 375 mm | 225 | 178 | 2 | £2,159.00 |
| 1-410E | Electronic lock | 1475 x 765 x 535 mm | 1399 x 705 x 415 mm | 375 | 409 | 3 | £3,699.00 |
| 1-410K | Double bitted key lock | 1475 x 765 x 535 mm | 1399 x 705 x 415 mm | 375 | 4097 | 3 | £3,459.00 |
| 1-535E | Electronic lock | 1850 x 840 x 580 mm | 1720 x 730 x 415 mm | 495 | 521 | 4 | £3,929.00 |
| 1-535K | Double bitted key lock | 1850 x 840 x 580 mm | 1720 x 730 x 415 mm | 495 | 521 | 4 | £3,689.00 |
| 1-780E | Electronic lock | 1850 x 1190 x 580 mm | 1720 x 1080 x 415 mm | 665 | 770 | 4 | £5,339.00 |
| 1-780K | Double bitted key lock | 1850 x 1190 x 580 mm | 1720 x 1080 x 415 mm | 665 | 770 | 4 | £5,099.00 |