Phoenix KC0501E Key Cabinet
Phoenix KC0501E Key Cabinet
The Keysure deep cabinet range from Phoenix has been perfectly designed to accommodate padlocks and larger sets of keys. We have different locking types available and the cabinet can easily be wall mounted for added security.
Product overview
Product Questions
Model Range
Key Features
Key cabinet for efficient and safe storage of keys
Equipped with 24 key hooks on height-adjustable frames
Cabinet is extra deep and especially suitable for padlocks and key fobs
Equipped with an electronic code lock
Manufactured from solid steel plate and integrated hinge
Durable and scratch-resistant powder coating
Supplied with key rings, numbering and index card
External dimensions: 350 x 380 x 140 mm (HxWxD)
Internal dimensions: 348 x 378 x 138 mm (HxWxD)
Weight: 6 kg
Colour: Light Grey
Anchoring via back wall
Pros and Cons
Supplied with 24 key hooks
Adjustable hook bars provided
Key tabs, key rings and number labels all included
Pre-drilled fixing holes ready for wall mounting
Different locking types available
About the Phoenix KC0501E Key Cabinet
The Phoenix Keysure deep key cabinet is ideal for any commercial business such as car dealerships, garages and hotels to keep sets of keys secure.
We have different sizes and locking types to choose from to match your requirements.
Technical Details
Specifications
Type of product:
Key Cabinet
Model:
KC0501E - Key Cabinet
Locking type:
Electronic lock
External dim. (HxWxD):
350 x 380 x 140 mm
Internal dim. (HxWxD):
348 x 378 x 138
Key hooks:
24 Standard Hooks
Type key hooks:
Extra large for car keys
View scale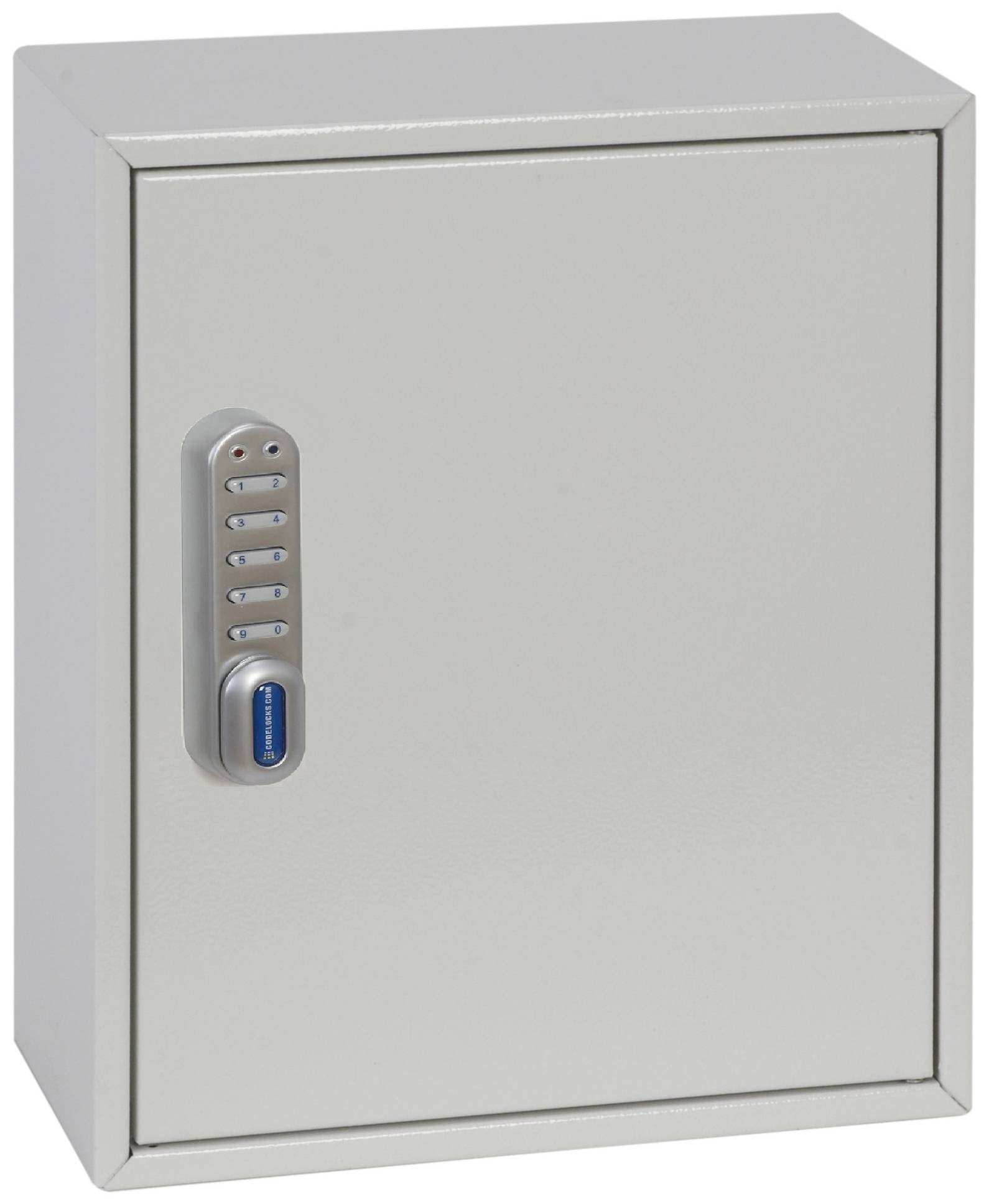 External dim. (HxWxD) 350 x 380 x 140 mm
Internal dim. (HxWxD) 348 x 378 x 138
Weight (kg) 6
Model Range
| Model | Locking type | External dim. (HxWxD) | Internal dim. (HxWxD) | Weight (kg) | Volume (ltr) | Shelf | Key hooks | Price |
| --- | --- | --- | --- | --- | --- | --- | --- | --- |
| |   | | | | | | aantal | inc VAT |
| KC0501E - Key Cabinet | Electronic lock | 350 x 380 x 140 mm | 348 x 378 x 138 | 6 | | - | 24 Standard Hooks | £259.00 |
| KC0501K - Key Cabinet | Cylinder key lock | 350 x 380 x 140 mm | 348 x 378 x 138 | 6 | | - | 24 standard hooks | £189.00 |
| KC0501M - Key Cabinet | Mechanical combination lock | 350 x 380 x 140 mm | 348 x 378 x 138 | 6 | | - | 24 standard hooks | £309.00 |
| KC0502E - Key Cabinet | Electronic lock | 550 x 380 x 140 mm | 548 x 378 x 138 | 10 | | - | 50 standard hooks | £319.00 |
| KC0502K - Key Cabinet | Cylinder key lock | 550 x 380 x 140 mm | 548 x 378 x 138 | 10 | | - | 50 standard hooks | £259.00 |
| KC0502M - Key Cabinet | Mechanical combination lock | 550 x 380 x 140 mm | 548 x 378 x 138 | 10 | | - | 50 standard hooks | £379.00 |
| KC0503E - Key Cabinet | Electronic lock | 550 x 730 x 140 mm | 548 x 728 x 138 | 17 | | - | 100 standard hooks | £539.00 |
| KC0503K - Key Cabinet | Cylinder key lock | 550 x 730 x 140 mm | 548 x 728 x 138 | 17 | | - | 100 standard hooks | £469.00 |
| KC0503M - Key Cabinet | Mechanical combination lock | 550 x 730 x 140 mm | 548 x 728 x 138 | 17 | | - | 100 standard hooks | £589.00 |