MasterLock LFW205FYC Fire Safe XXL
MasterLock LFW205FYC Fire Safe XXL
The Master Lock LFW205FYC Digital Fire Safe offers 60 minutes fire protection for paper and data media along with an insurance rating of £1,000 for Cash and £10,000 for Valuables. The LFW205FYC is also water resistant for up to 24 hours.
Product overview
Product Questions
Model Range
Alternatives
Description - Master Lock LFW205FYC
The Master Lock LFW205FYC is a Digital Safe designed to protect paper documents along with media such as USB Sticks, Portable Hard Drives and Memory Sticks. It also has the added feature of water resistance up to 120mm for a 24 hour period.
The LFW205FYC is ideal to store cash, valuables, documents and digital media. It has a 1 hour certificate for fire protection and it comes with the added features of a backlit keypad, internal light and key rack on the back of the door.
Certification
This Master Lock Fireproof Safe range has a UL Classified Fire Resistance of 1 hour at 927° C. It also has ETL verified fire resistance for CD's/DVD's, Portable Hard Drives and Memory Stick for 1 hour at 927° C.
The Master Lock range has also been tested against water with it being verified by ETL for up to 120mm of water for 24 hours. This is along with ETL Verified impact resistance of 4.5 metres if dropped during a fire.
Construction
The LFW205FYC has been constructed with 3 x 25mm locking bolts along with a double walled steel door. It comes with an easy to use digital electronic lock which allows 2 different user codes if required. The batteries can be replaced externally if the batteries run flat or due to failure.
Installation can be completed via the base as it comes supplied with fixing bolts. The fixing holes are part drilled ready for installation into a concrete floor or wooden floor with joists. Please check with your insurance company on their requirements for installation.
We offer free delivery for all Master Lock products in all mainland UK areas
Master Lock
Master Lock are an American based company that were originally founded in 1921. They develop and manufacture all types of security based products such as outdoor key boxes, safes, padlocks and many more.
In terms of recognisable security companies, Master Lock are one of the leading organisations throughout the security industry around the world. They continue to develop and produce innovative products on yearly basis.
Pros and Cons
60 Minutes Fire Protection – ETL Verified
Water Resistant up to 200mm for 24 Hours
Easy to Use Digital Electronic Keypad
Cash Rating £1,000 / Valuables Rating £10,000
Automatic Interior Light
Can be Anchored to the Base (Fixings Included)
Adjustable Shelves Included
Batteries Not Included (4 x AAA Required)
Technical Details
Specifications
Type of product:
Data Safe
Locking type:
Electronic lock
Insurance rating (cash / valuables):
£ 1,000 / £ 10,000
Suitable for:
Personal Belongings (limited value), Cash, Jewellery / Valuables, Paper Documents, Data media, Bulk Goods (Smartphones, Cigarettes, etc.)
Fire standard:
UL72 Class 350
Fire Protection for:
Paper & Digitale Media
External dim. (HxWxD):
605 x 472 x 490 mm
Internal dim. (HxWxD):
498 x 376 x 302 mm
Notice external depth:
The stated external depth excludes 45 mm for the keyboard and handle
View scale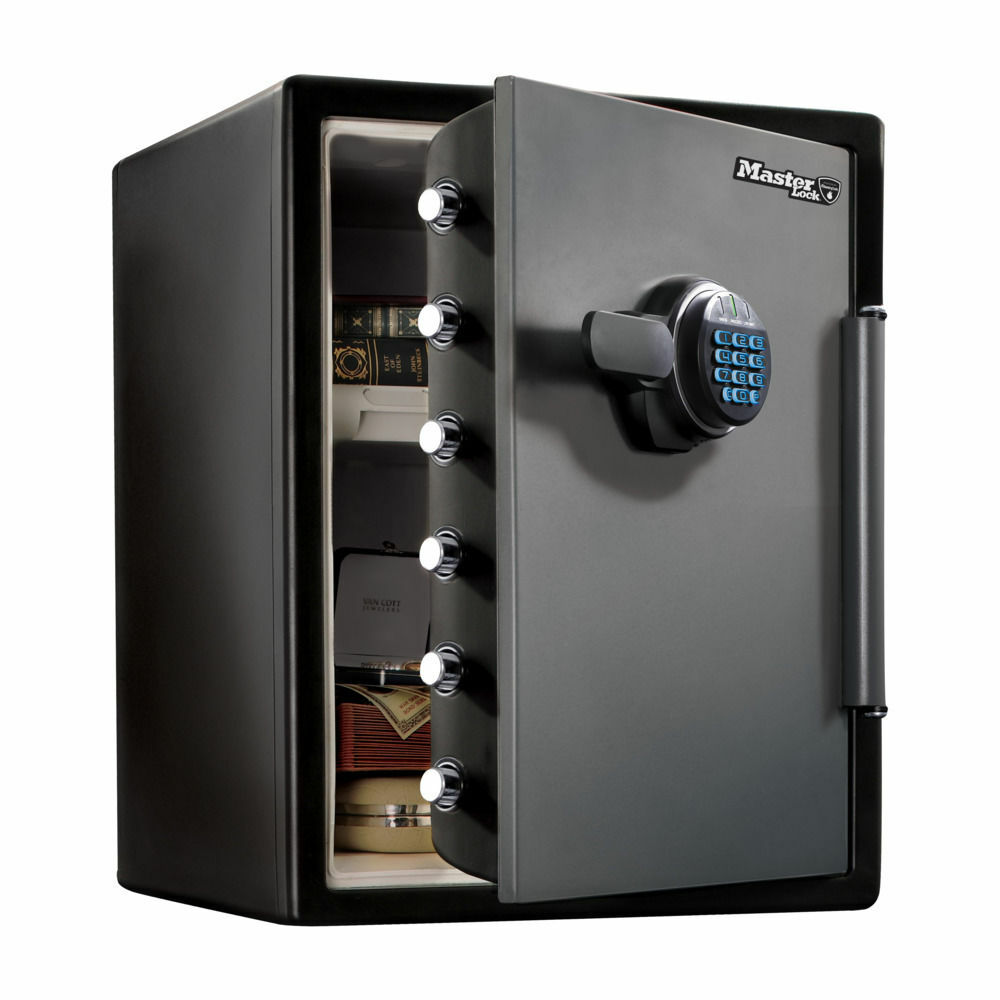 External dim. (HxWxD) 605 x 472 x 490 mm
Internal dim. (HxWxD) 498 x 376 x 302 mm
Weight (kg) 57
Model Range
Model
Locking type
External dim. (HxWxD)
Internal dim. (HxWxD)
Weight (kg)
Volume (ltr)
Shelf
Price
 
inc VAT
LFW082FTC
Electronic lock
348 x 415 x 491 mm
244 x 319 x 292 mm
36
23
1

Regular Price

£349.00

Special Price

£329.00

LFW123FTC
Electronic lock
453 x 415 x 491 mm
349 x 319 x 302 mm
39
34
1

£399.00

LFW205FYC
Electronic lock
605 x 472 x 490 mm
498 x 376 x 302 mm
57
57
2

Regular Price

£549.00

Special Price

£519.00

LFW205TWC met alarm
Electronic lock
605 x 472 x 490 mm
498 x 376 x 302 mm
57
57
1

£649.00
We found other products you might like!