KeySecure 50 Self Closing Key Cabinet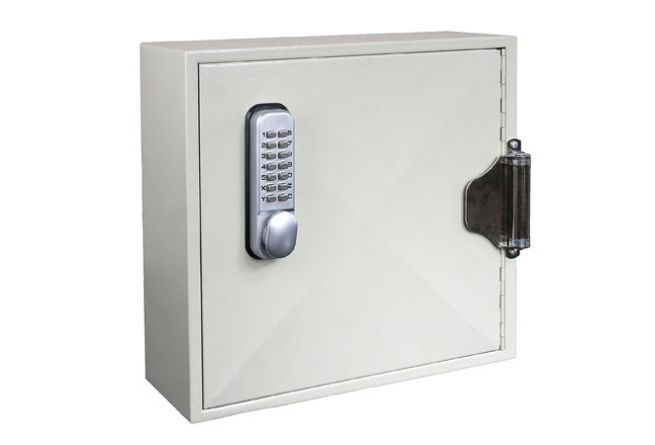 KeySecure 50 Self Closing Key Cabinet
This self closing key cabinet offers a capacity for 50 keys to be stored and features a slam shut self closing door which makes it suitable for estate agents or car garages where staff are likely to not close the cabinet after use. The cabinet has a mechanical lock which means no batteries need to be changed and there are over 8,000 possible codes.
Product overview
Reviews
Product Questions
Key features
Mechanical combination lock with over 8,000 different codes
Features a self closing hinge which automatically shuts the door
Combination lock is a slam shut meaning it will close automatically after use
Supplied with colour coded key tags, rings and numbers
Piano hinge for extra rigidity in the cabinet
Capacity for up to 50 keys
Adjustable hook bars to accommodate different key lengths
Supplied with a removable control index
External Dimensions W x H x D: 380mm x 350mm x 140mm
External Dimensions W x H x D: 375mm x 345mm x 125mm
Door Opening W x H: 330mm x 310mm
Weight: 6.0kg
Capacity: 16 Litres
Fixing holes in rear for wall attachment - fixings not supplied
Pro and cons
Has self closing hinge which automatically shuts the door
No batteries required
Capacity to store up to 50 keys
Can be installed on the rear wall
Fixing bolts not supplied
About the KeySecure 50 Self Closing Key Cabinet
The Keysecure self closing cabinet is ideal for any commercial business that requires to store multiple sets of keys at once. The self closing hinge is an extra security feature that is beneficial to any business.
We also have this available in a different size to match your requirements if needed.
Technical details
Specifications
Type of product:
Key cabinet
External dim. (HxWxD):
350 x 380 x 140 mm
Internal dim. (HxWxD):
345 x 375 x 125 mm
View scale
External dim. (HxWxD) 350 x 380 x 140 mm
Internal dim. (HxWxD) 345 x 375 x 125 mm
Weight (kg) 6
Customer Reviews
Superb value cabinet, ideal for my garage as it self closes. Also no key needed to open the cabinet means none are lost.

Key store is just ideal for our office use as staff tend to not to want to shut the cabinet this stops that happening and gives me peace of mind that the keys are secure.
Product Questions
Hi , I am looking for self closing combination key safe that can accommodate bunches of keys for a transport company
I like this one but would need it to be double the size
I see that you are in the UK. do you know of any US vendors that I can purchase this from. We need something that is self closing.