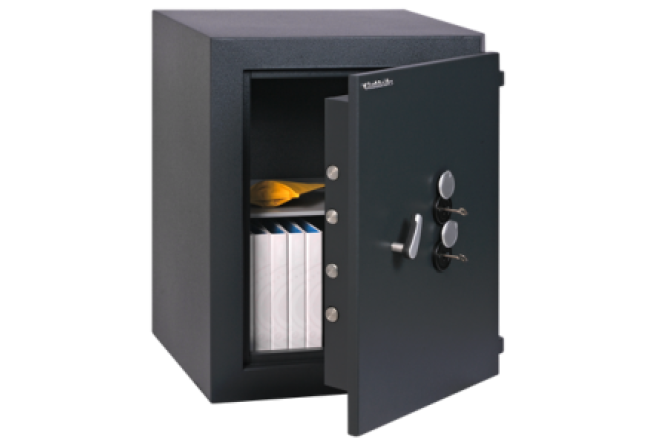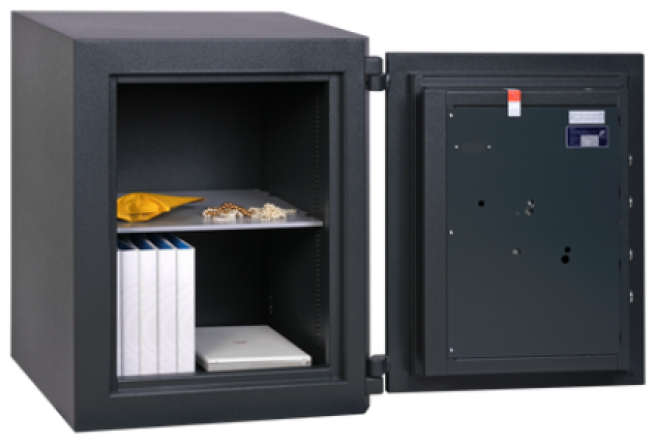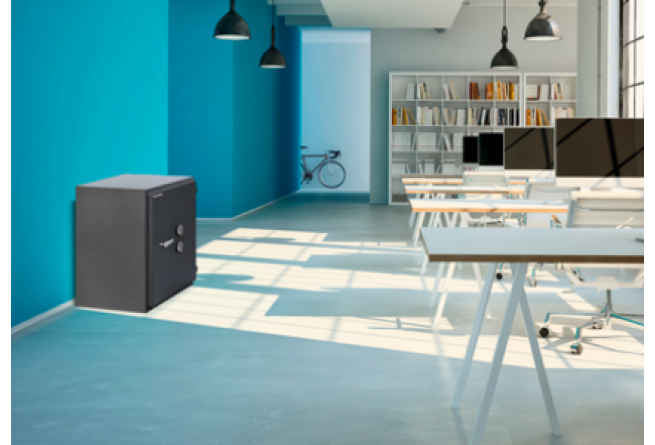 Chubbsafes Custodian Grade 4-170 High Security Safe
The Chubbsafes Custodian is high security EN 1143-1 certified safe and is Eurograde 4 standard. It has an insurance rating of £60,000 for cash and £600,000 for valuables, The safe is suitable for base fixing for added security.
Free delivery UK mainland
100% secure payments
Customers rate us at 4,8/5,0
Features
High security and fireproof safe for protection of cash, valuables and data media
Certified by ECB.S class CEN Grade IV according to EN 1143-1
Cash rating £60,000 / valuables rating £600,000
High security double bitted keylock (EN 1300 approved ), 2 keys supplied
Added protection by manganese steel anti-drilling plates
Solid boltwork with live locking bolts
1 removable shelf included
External dimensions: 920 x 730 x 640 mm (HxWxD)
Internal dimensions: 750 x 560 x 400 mm (HxWxD)
Volume: 168 litres
Weight: 681 kg
Colour: Anthracite
Fixing via base (1 x mechanical anchor supplied)
Pros and cons
Cash Rating £60,000 / valuables rating £600,000
Eurograde 4
Fitted with anti-drilling plates
Insurance approved
Cannot be anchored to the wall
No fire protection
Expert advice
The custodian is an excellent safe that offers great protection for your cash or valuables.
It has a large capacity and weight, so please check this is suitable before purchase.
Scale ratio
External dim. (HxWxD) 920 x 730 x 640 mm
Internal dim. (HxWxD) 750 x 560 x 400 mm
Weight (kg) 681
Specifications
| | |
| --- | --- |
| Art. No. | 1211000151 |
| EAN code | 5055409507372 |
| Brand | Chubbsafes |
| Type of product | Eurograde safe |
| Model | Custodian IV-170 |
| Locking type | Dual locking |
| Burglary Certificate | Grade IV - EN 1143-1 |
| Insurance rating (cash / valuables) | £ 60,000 / £ 600,000 |
Read more specifications
Show less specifications
Delivery
Delivery
Price

(inc VAT)

UK mainland delivery

kerbside drop-off delivery service

UK mainland delivery

kerbside drop-off delivery service

The weight of this product is 681 kg

The weight of this product is 681 kg

Monday - Friday

£0.00
Full Service Installation (base fix on ground or upper floor via lift)

Professionally installed (delivered, placed and anchored) inside your building on ground floor or any floor with no more than 1 step or a suitable lift

Full Service Installation (base fix on ground or upper floor via lift)

Professionally installed (delivered, placed and anchored) inside your building on ground floor or any floor with no more than 1 step or a suitable lift

Monday - Friday

£469.00
Model range
| Model | Locking type | External dim. (HxWxD) | Internal dim. (HxWxD) | Weight (kg) | Volume (ltr) | Shelf | Price |
| --- | --- | --- | --- | --- | --- | --- | --- |
| |   | | | | | | inc VAT |
| Custodian IV-110 | Dual locking | 790 x 730 x 560 mm | 620 x 560 x 320 mm | 549 | 111 | 1 | £4,489.00 |
| Custodian IV-170 | Dual locking | 920 x 730 x 640 mm | 750 x 560 x 400 mm | 681 | 170 | 1 | £4,859.00 |
| Custodian IV-210 | Dual locking | 920 x 730 x 740 mm | 750 x 560 x 500 mm | 760 | 210 | 1 | £5,499.00 |
| Custodian IV-310 | Dual locking | 1270 x 730 x 740 mm | 1100 x 560 x 500 mm | 985 | 310 | 2 | £6,439.00 |
| Custodian IV-415 | Dual locking | 1470 x 810 x 740 mm | 1300 x 640 x 500 mm | 1201 | 420 | 3 | £7,139.00 |
| Custodian IV-595 | Dual locking | 1850 x 880 x 740 mm | 1680 x 710 x 500 mm | 1558 | 600 | 3 | £8,599.00 |