Bulldog SA7L Removable Hitch Post
Bulldog SA7L Removable Hitch Post
This removable hitch post from Bulldog Security is the SA7L, it is based on the SA7 which is a more permanent solution. This model is designed to be secured in the ground with concrete and once installed the post is removable.
Product overview
Product Questions
Alternatives
Key features
The lock which secures the post has an anti drill centre pin and has 10mm diameter steel ball bearings operated by the internal cam mechanism. It has also been designed to be resistant to attack by punches due to the internal lock design. Keys can also only be removed in the locked position meaning there is no possibility of accidental locking. Once installed you can secure your caravan or trailer using a Bulldog hitch lock but is not compatible with the heavy duty range.
Dimensions W x H x D: 70mm x 700mm x 70mm
Constructed from a 70mm x 70mm hollow steel section of a 5mm thickness
Finished in a bright yellow highly visible powder coat
Spigot mount
Locked into place with the Bulldog Super Lock Bolt - 2 keys supplied
Lock features a case hardened 1 inch diameter body
Drill and pick resistant lock with over one million key combinations possible
12mm Thick retaining eye welded to the leg of the post
300mm Engagement into the ground
Post stands 400mm above ground once it is installed
Supplied with a protection plate to cover the ground socket when the hitch post is not in use
Also supplied with a dust cover to protect the lock
To secure your trailer or caravan to the hitch post you can use a Bulldog hitch lock model (not compatible with heavy duty range)
Note: Special bottom channels are required for Bradley and Rice Mini Locks to allow for fixing to this post
5 Year warranty
Weight: 14.3kg
Please refer to the attached documentation for further information on this product.
Pro and cons
5 Year warranty
Supplied with Bulldog Super Bolt lock
Can easily be removed if access is required
Post stands at 400mm once installed
About the Bulldog SA7L Removable Hitch Post
This Bulldog removable hitch post is a strong and easy to fit post. It is an ideal solution to secure your vehicle or reserving a designated parking space.
Please see our attached documents for further information and guidance.
Technical details
Specifications
Type of product:
Parking post
External dim. (HxWxD):
700 x 70 x 70 mm
Internal dim. (HxWxD):
x x mm
View scale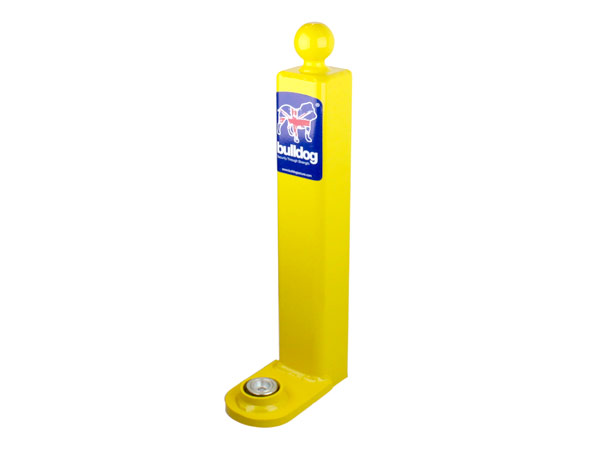 External dim. (HxWxD) 700 x 70 x 70 mm
Internal dim. (HxWxD) x x mm
We found other products you might like!