Bulldog AW Mini Hitch Lock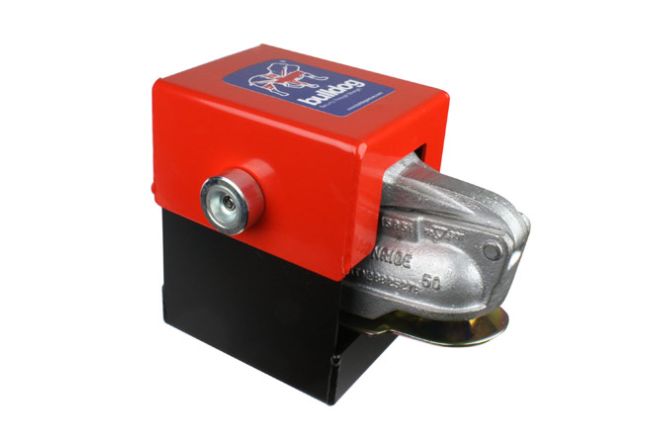 Play

Bulldog AW Mini Hitch Lock
The Bulldog AW mini hitch lock is designed for use with Avon Ride hitch heads, specifically the 12-15851 and 12-14304. It features 4 parts to secure your trailer or caravan when unhitched or 3 parts for when it is hitched.
Product overview
Product Questions
Alternatives
Key features
This model gives added protection as not only does it totally cover the hitch handle, it also features a bottom channel around the underside of the drawbar. Both the top box and bottom channel are made from 3mm thick steel and the bottom channel provides added resistance to leverage attacks. Suitable for use with the following hitches:
Avon Ride hitch heads - 12-15851 & 12-14304
Fitted with the Bulldog Super Lock Bolt with two keys supplied
Can be used hitched or unhitched
Tested to Sold Secure Gold Standard - insurance approved
Locking bolt positioned below the handle to secure it in place
Supplied with a dummy ring hitch plate to cover hitch socket for securing your trailer or caravan when in an unhitched state
Drill and pick resistant lock
Ideal for use with the Bulldog security hitch post
Finished in a bright red powder coat for high visibility so it also acts as a visual deterrent
Hitch lock totally covers the hitch handle and also features a bottom channel for added protection against leverage attacks
Easy fitting with four parts when unhitched or three when hitched
Weight: 5.5kg
Please refer to the attached documentation for further information on this product.
Pro and cons
5 Year warranty
Insurance approved
Supplied with Bulldog Super Lock Bolt including 2 keys
Can be fitted hitched or unhitched
About the Bulldog AW Mini Hitch Lock
This Bulldog hitch lock has been manufactured and tested so it meets insurance approval. It's an excellent product for use on caravans and trailers.
Please use our attached documents if you are unsure about sizing and dimensions before purchase.
Technical details
Specifications
Type of product:
Hitch lock
External dim. (HxWxD):
x x mm
Internal dim. (HxWxD):
x x mm
We found other products you might like!