Autolok KNK/L Klamp-It Triangle Wheel Clamp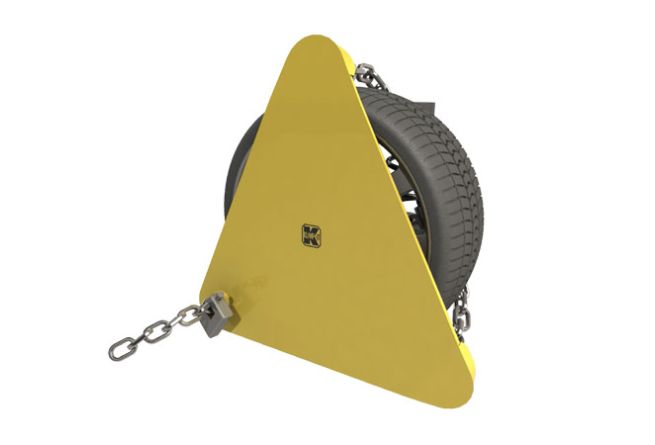 Autolok KNK/L Klamp-It Triangle Wheel Clamp
The Autolok KNK/L Klamp-It is a triangle wheel clamp designed for used with a variety of different sized wheels ranging from those on small cars up to small 4x4s. Free UK mainland delivery is included.
Product overview
Reviews
Product Questions
Alternatives
Key features
This triangular shaped wheel clamp is the Autolok Clamp-It KNK/L, it is widely used by professionals and the one piece design enables fast and effective clamping. This clamp is supplied with a high visibility cover plate and a hardened steel chain, all you need is a padlock to secure it in place.
Fits a variety of vehicles from cars to small 4x4s
Triangle wheel as used by professionals
Easy fitting
Supplied with a cover plate and hardened steel chain
Heavy duty one piece design
Suitable for fitting to a wide variety of vehicles from smallest car to a small 4x4
Choice of standard padlock or high security version
High visibility plate is reinforced - acts as a visual deterrent
Cover Plate Dimensions: 630mm x 630mm x 590mm
Weight: 14.3kg
Pro and cons
Heavy duty construction
Fits all types of wheels
One piece design helps fast clamping
Reinforced high visibility plate
About the Autolok KNK/L Klamp-It Triangle Wheel Clamp
It can be fitted to a wide variety of vehicles ranging from the smallest car up to the small 4x4s.
If you have a wheel size and you are not certain it will fit please contact us and we will check for you.
Technical details
Specifications
Type of product:
Wheel clamp
Customer Reviews
Good product, well made and heavy, easily fitted on mu motor-caravan.
Product Questions
Hi,

Will this fit a 21" alloy with tire 295 / 25 / R21? The alloy is diamond cut and deep dish so I don't really want any of the clamp / chain touching the alloy to leave marks etc.

Thanks.
We found other products you might like!