Autolok KCP/S Removable Spigot Parking Post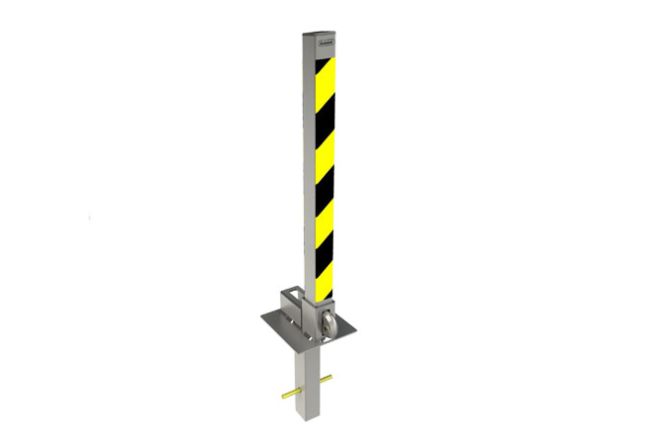 Autolok KCP/S Removable Spigot Parking Post
The Autolok KCP/S is a removable spigot mounted parking post and is a deterrent against vehicle theft. Secured in place by a discus padlock with two keys supplied, free UK delivery is also included.
Product overview
Product Questions
Alternatives
Key features
This spigot mounted parking post is the Autolok KCP/S and can be removed when not in use or it can also be locked in a folded down position. It is supplied with a discus padlock with a shackle that is protected by the body of the post when locked in position, complete with two keys. 
Constructed from a 50mm x 50mm hollow steel section
Zinc plated finish for protection against corrosion
Spigot mounted with a submerged depth of 300mm
Stands 730mm above the ground when locked
Folds down when not in use with a ground clearance of 70mm or also removable
Supplied with PP10 hardened stainless steel padlock to secure the post - complete with two keys
Upgrade to higher security PP30 6 disc shackle padlock possible if required
Keys can be made keyed alike if you order multiple posts
Dimensions W x H x D: 50mm x 1030mm x 50mm
Weight: 7kg
* Please see the attached PDF document which provides more information.
Pro and cons
PP10 70mm stainless steel padlock included
Excellent construction
Post can either be removed or locked down in position
Keys can be keyed alike if more than 1 unit is ordered
Has to be set in concrete
About the Autolok KCP/S Removable Spigot Parking Post
If you order multiple posts we can offer a keyed alike service for added convenience for a small additional charge.
This model is designed to be submerged and set in concrete and is ideal for domestic use.
Technical details
Specifications
Type of product:
Parking post
External dim. (HxWxD):
1030 x 50 x 50 mm
Internal dim. (HxWxD):
x x mm
View scale
External dim. (HxWxD) 1030 x 50 x 50 mm
Internal dim. (HxWxD) x x mm
We found other products you might like!