Burton EuroVault Aver Grade 1 Size 2E Deposit Safe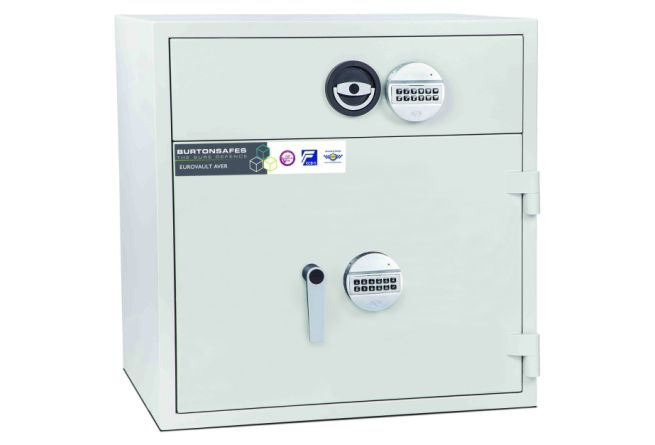 Burton EuroVault Aver Grade 1 Size 2E Deposit Safe
The Burton Eurovault Aver is a high security Eurograde 1 deposit safe. It has an insurance rating of £10,000 for cash and £100,000 for valuables. It can be anchored to the base for added for security.
Product overview
Product Questions
Key features
High security deposit safe with drawer
Deposit into drawer fitted with anti-fishing device
European certification by ECB.S class CEN Grade I according to EN 1143-2
Cash rating £10,000 / valuables rating £100,000
Safe door is supplied with a high security digital electronic lock
Safe drawer is fitted with a double bitted key lock, incl. 2 keys per lock (EN 1300 certified)
100 mm thick safe door is made up of multiple burglar-resistant layers
40 mm thick wall has a double-walled construction made of high-grade steel
3-sided locking mechanism with 30 mm thick solid chrome-plated locking pins
Lock and latch are protected by manganese steel plates and an active, anti-explosive bulkhead
External dimensions: 1040 x 650 x 550 mm (HxWxD)
Internal dimensions: 815 x 570 x 420 mm (HxWxD)
2 removable shelves included
Volume: 298 litres
Weight: 270 kg
Colour: Light Grey
Anchoring via 1 x base (1 x fixing bolts included)
Pro and cons
Cash Rating £10,000 / valuables rating £100,000
Certified to EN1143-2 Grade 1 by ECBS
Anti-fishing device
Supplied with drawer deposit
About the Burton Eurovault Aver Deposit Grade 1 Size 2E
The Eurovault Aver Deposit is an ideal safe for any business that requires to deposit cash or important documents on a regular basis.
It has a lockable drawer unit and an anti-fishing device included.
Technical details
Specifications
Art. No.:
AVER DEP GR1 SZ 2 E
Type of product:
Deposit safe
Locking type:
Electronic lock
Insurance rating (cash / valuables):
£ 10,000 / £ 100,000
External dim. (HxWxD):
1040 x 650 x 550 mm
Internal dim. (HxWxD):
816 x 570 x 420 mm
Colours available:
Light grey
View scale
External dim. (HxWxD) 1040 x 650 x 550 mm
Internal dim. (HxWxD) 816 x 570 x 420 mm
Weight (kg) 270