Today we are going to review the Chubbsafes Homesafe 50 EL.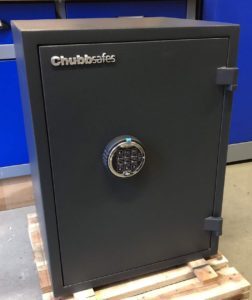 The Homesafe series is the latest range of home safes from Chubbsafes and designed for the safe storage of money, jewellery and paper documents. The range offers certified protection against burglary and fire.
The Homesafe series is European certified class S2 according to EN 14450 with a value storage of £4,000 for cash and £40,000 for valuables.
The Homesafe series is European certified class LFS30P according to EN 15659 and offers 1/2 hour fire protection for paper documents.
Anchoring is possible via the bottom by means of 2 large anchors (included). In our review we look at model 50 EL which is equipped with an electronic code lock.
In total there are 6 models ranging from 11 to 91 liters. Equipped with a key lock or electronic code lock per model.
---
Plus and minus points - in short
Light weight safe with excellent quality
High-quality electronic code lock with 2 adjustable codes
Class S2 according to EN 14450. Value storage € 5,000 cash / € 9,000 valuables
1/2 hour fire resistant according to EN 15659, class LFS30P
European certified by ECB.S; highest attainable certificate
Shelf not adjustable in height
Insufficient depth for binders (ring binders do fit)
Cannot be anchored via the rear wall (floor only)
---
Chubbsafes Homesafes models

The designation "KL" (Key Lock) is the variant with key lock, "EL" (Electronic Lock) electronic code lock.
---
Construction features
Revolutionary V-shaped shots
Integrated thief claw on hinge side
Special band in the door frame that swells during fire
2 large M16 wedge bolts for bottom anchoring
---
Pros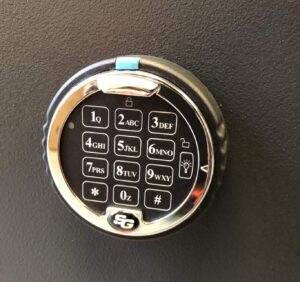 Ease of use : What is striking is the lack of a door handle. This function has been adopted in the lock, which is equipped with a black rotating ring. After entering the factory code, we were able to open the lock and then the safe. The keystrokes feel good and give feedback by means of a beep and red LED. You will be warned in time if the battery is weak. Changing is easy because the battery is in the keyboard. A battery is included as standard. Nice feature is the lighting; in the dark you press the light and the keyboard is illuminated.
Safety : Chubbsafes is known for its high-quality constructions. This is underlined by opting for the toughest tests and certifications. This strategy has also been followed for the Homesafe and it has been opted for certification by ECB.S for both burglary and fire. The safe feels good and on the hinge side the safe door has integrated thief claws.

The lock runs smoothly and the alternative choice for "V-shaped" shots differs from what we are used to with safes, but this has clearly been thought about.
Certification: As already indicated, the Homesafe burglary and fire is certified by ECB.S. Burglar-resistant Security Level 2 (S2) according to EN 14450 and fire-resistant class LFS30P according to EN15659. The certification plates, in accordance with EN standards, are affixed to the rear of the safe door. In accordance with the requirement, all locks on the Homesafe series are EN 1300 certified.
Anchoring:  2 anchoring holes are provided in the bottom and the safe can be anchored perfectly with the 2 M16 anchors supplied. Because this safe is also certified fire resistant, it logically has no anchoring holes in the back wall. After all, this would weaken the fire-resistant barrier. If anchoring in the floor is not possible, gluing is a good alternative.
Quality: The finish in anthracite-colored powder coating is scratch resistant and can take a beating. The quality is excellent.
---
Negatives
Weight:  The low weight certainly has a great advantage; installation is easier and saves costs. However, the safe feels less heavy and solid, which can also be experienced as less 'good'.
Interior: The supplied shelf is removable, but not adjustable in height. If you want to store higher items, the shelf must be removed, but then you no longer have any extra space for other items.
Then there is the interior depth of the safe. All Homesafe models have an internal depth of 281 mm. Sufficiently deep for all kinds of stuff, but not deep enough for placing a file. This just does not fit because we are 10 mm short. That is a pity because there will also be business users who want to store their binders with paper documents in a fire-safe manner. Less deep ring binders do fit.
---
Expert review Chubbsafes Homesafe
Since its introduction, the Chubbsafes Homesafe series has quickly developed into a bestseller. Many private individuals and small business users are now satisfied users. With European certified burglary and fire safety, the Homesafe series offers a high-quality safe for storing money, jewellery and other valuable belongings.
Unfortunately, the internal depth has not been given enough thought. Folders just don't fit and as a business user this would be handy. The shelf is also not adjustable in height (but removable). We have now heard from a reliable source that Chubbsafes is working on this 'problem'. Time will tell.
Due to the low weight, the safe may feel a little less solid, but it is ingeniously constructed and with the right ECB.S certificates there is no reason to doubt. Truly a bestseller !
| | |
| --- | --- |
| Ease of use | 9 |
| Security (burglary & fire) | 9.5 |
| Model series | 9 |
| Interior | 6 |
| Price quality | 9 |
| Final assessment | 8.5 |
---
About Lips Safes
The Lips family business was founded in 1870. Founder Jacobus Lips started as a small forge with the manufacture of stoves, fireplaces and soon safes. The company has grown over the years. Around 1920, the Lips factory already had 1,000 employees. After a reconstruction of the company after 1945, the company has continued to grow steadily.
Lips Safes and Chubbsafes
In 1971 the company merged with the English company Chubb. In the following years, the company Chubb-Lips successfully started with electronic security solutions. After several purchases and sales of the company, Lips Brandkasten became part sold to the current Swedish owner Gunnebo.
Lips Brandkasten is still one of the leading manufacturers of high-quality safes today. Due to further internationalization, the products are labeled with "Chubbsafes". The name Lips Brandkasten is still used in the Netherlands and Belgium because of their reputation. A Chubbsafes safe is therefore equal to a safe from Lips Brandkasten and vice versa.