Regardless of the weight, we always recommend anchoring your safe. This prevents the safe from being taken from you. A well-anchored safe is an absolute necessity for light and medium-weight safes.
The European standard even prescribes that all burglar-resistant safes up to 1000 kg must be properly anchored. We're talking burglar-resistant safes that protect cash and / or valuables from theft.
Good safe anchoring can be realized with:
European certified safes EN 14450 and EN 1143-1. These safes have specially designed anchor holes. In European standards, the anchor holes are subjected to extensive attack tests.
Good surface or environment; preferably a concrete floor and / or rear wall.
Correct anchoring material. At least a mechanical anchor, possibly a chemical anchor.
Correct tools and craftsmanship for installing the anchoring.
---
Choose a smart location for your safe
When choosing a safe, it is also important to choose a good place for placement.
In an inconspicuous place
Where you can easily reach
Easy to anchor to a fixed environment (preferably concrete wall or floor)
Private safes are often built into clothing or interior wardrobes. This is possible because of the mounting option through the back wall of the safe.
Tip safe in wardrobe
Make an opening in the back wall of the wardrobe and slide the safe through the opening against the wall. Secure the safe with 2 wedge bolts. Optionally, you can also glue the side and bottom.
---
Anchoring methods for safes
Wood thread bolt and plug
Mechanical anchor, also referred to as wedge bolt or spreading load anchor
Chemical anchor
Alternative processing method such as, for example, gluing
Wood thread bolt and plug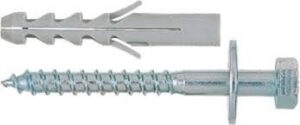 Many non-European certified safes are supplied with wood threaded bolts and anchors. These are often the products that are classified according to (obsolete) NCP Safe standards. If this method of anchoring is properly carried out, a resistance of approx. 80-100 kg is achieved. In practice, however, the values ​​are lower.
Mechanical anchor 

A mechanical anchor offers a much higher tensile strength compared to a wood threaded bolt and plug. With correct installation in concrete, tensile strengths of approx. 1400 kg can be achieved with an anchor of Ø16 mm. This method of anchoring uses a safety factor of 1.5. In practice, the strength will be about 1.5 times higher.
Chemical anchor

The highest tensile strength is achieved when anchoring with a chemical anchor. This anchoring method is specialist work and must be performed carefully. The anchoring must harden well before it can be loaded. If all this is done correctly, tensile strengths of approx. 2100 kg can be achieved with an anchor of Ø16 mm. This method of anchoring takes into account a safety factor of 3. In practice, the strength will be approximately 3 times higher.
---
Alternative anchoring method safe or safe

In practice, it is not always possible to fix a concrete floor or wall. To be able to attach a safe properly, it can also be glued.
When properly applied, bonding with an industrial sealant provides a very firm fastening and is therefore regularly applied in practice. One of the best kitten for this is the 321 polymet kit.
About 321 Polymet kit
Permanently elastic, applicable to different materials
No shrinkage, no cracks or seams after application
Good adhesion to non-porous material, easy for a good result