Sentry UC-039K Deposit Safe

Sentry UC-039K Deposit Safe
The UC-039K is a day deposit safe from Sentry Safe and has a cash rating of £1,000 or £10,000 for valuables. It features a letterslot for dropping cash or items into the safe with an anti-fishing device to prevent items from being retrieved once deposited.
This drop safe has a solid construction with the body made from 3mm thick steel, while the door is secured by two key locks. It can be secured using the fixing point in the base and bolts are provided for concrete.
Product overview
Product Questions
Key features
External Dimensions W x H x D: 203mm x 305mm x 262mm
Internal Dimensions W x H x D: 197mm x 253mm x 216mm
Slot Dimensions W x H: 175mm x 13mm
Dual key locking mechanism - supplied with two keys per lock
Rating of £1,000 for cash & £10,000 for valuables
Anti-fish slot prevents cash being removed once inserted
Anti-pry door stops the door from being pulled open
Bottom side piano hinge
Grey powder coated finish
Base fixing only - bolt down kit included
Weight: 13.1kg
Capacity: 11 Litres
Pro and cons
Anti-Fish slot
Anti-Pry door
Base fixing with bolt down kit included
Quick deposit slot for cash
Limited capacity
Slot only suitable for cash deposits
About the Sentry UC-039K Deposit Safe
The Sentry UC-039K deposit safe is a small but simple deposit safe that is easy to use, it comes equipped with a dual key lock system to add that extra security for your business.
Please check your requirements before purchase to see what capacity you require as the volume inside this safe is limited.
Technical details
Specifications
Type of product:
Deposit safe
Insurance rating (cash / valuables):
£ 1,000 / £ 10,000
External dim. (HxWxD):
305 x 205 x 262 mm
Internal dim. (HxWxD):
253 x 197 x 216 mm
View scale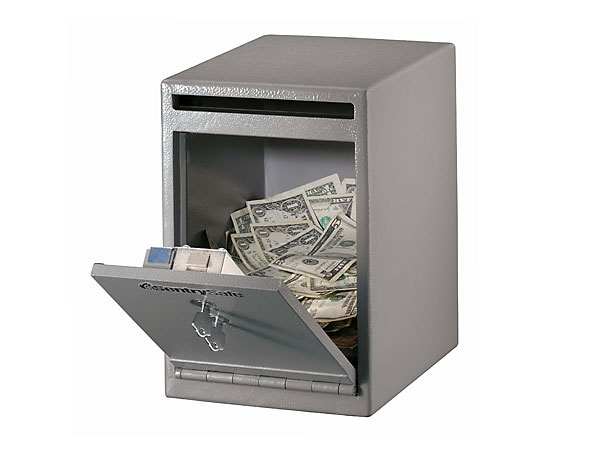 External dim. (HxWxD) 305 x 205 x 262 mm
Internal dim. (HxWxD) 253 x 197 x 216 mm
Weight (kg) 13,1
Product Questions
How do I install a safe to the floor?