De Raat ET1 Electronic Safe
The De Raat ET is a European certified safe equipped with a high security digital electronic lock (EN1300 approved). It has a simple but durable design and offers great value for money.
Regular Price
£389.00
Special Price
£309.00
Free delivery UK mainland
100% secure payments
Customers rate us at 4,83/5,00
Features
High security safe for secure storage of cash and valuables
Certified class S2 according to EN 14450
Cash rating £4,000 / valuables rating £40,000
Double wall construction with fire retardant material (DIN 4102)
High security digital electronic lock (EN 1300 approved)
2 programmable codes: 1 mastercode + 1 usercode
3-way boltwork with live locking bolts
1 removable shelf included
External dimensions: 330 x 450 x 380 mm (HxWxD)
Internal dimensions: 240 x 380 x 292 mm (HxWxD)
Volume: 27 litres
Weight: 39 kg
Colour: Light Grey
Fixing via 2 x base / 2 x back wall (2x mechanical anchor supplied)
Please add 30 mm to the external depth to include the door handle / hinges
Pros and cons
Easy operation
European certified Security Level S2 according to EN 14450
To be anchored to the bottom (2) and / or back wall (2)
Excellent quality
Little to no fire protection
Not the highest attainable certificate for safes
Poor quality screws + plugs are included. Replace these with good expansion bolts
Expert advice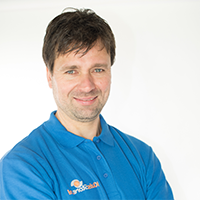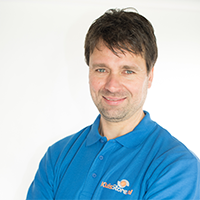 Great home safe with excellent price / performance. Easy to use and easy to install. Keep in mind the limited fire resistance; not good protection in a fire.
Specifications
| | |
| --- | --- |
| Art. No. | 081000225 |
| EAN code | 8712897300119 |
| Brand | De Raat Security |
| Type of product | Home safe |
| Model | ET 1 |
| Locking type | Electronic lock |
| Burglary Certificate | S2 - EN 14450 |
| Insurance rating (cash / valuables) | £ 4,000 / £ 40,000 |
Read more specifications
Show less specifications
Delivery
Delivery
Price

(incl. VAT)

UK mainland delivery

UK mainland delivery

Door to door service

The weight of this product is 39 kg

The weight of this product is 39 kg

Monday - Friday

£0.00
Full Service Installation (base fix on ground or upper floor via lift)

Professionally installed (delivered, placed and anchored) inside your building on ground floor or any floor with no more than 1 step or a suitable lift.

Full Service Installation (base fix on ground or upper floor via lift)

Professionally installed (delivered, placed and anchored) inside your building on ground floor or any floor with no more than 1 step or a suitable lift.

Monday - Friday

£119.00
Full Service Installation via Stairs (position, delivery and base fix)

Professionally installed (delivered, positioned and anchored) on 1 upper of 1 lower floor. Please contact us if there are multiple stairs to take or if it involves more then 1 upper or 1 lower floor.

Full Service Installation via Stairs (position, delivery and base fix)

Professionally installed (delivered, positioned and anchored) on 1 upper of 1 lower floor. Please contact us if there are multiple stairs to take or if it involves more then 1 upper or 1 lower floor.

Monday - Friday

£249.00
Model range
Model
Locking type
External dim. (HxWxD)
Internal dim. (HxWxD)
Weight (kg)
Volume (ltr)
Shelf
Price
 
HxBxD in mm
HxBxD in mm
kg
liter
aant.
incl. VAT
ET 0
Electronic lock
250 x 350 x 220 mm
160 x 280 x 140 mm
25
-

Regular Price

£319.00

Special Price

£269.00

ET 1
Electronic lock
330 x 450 x 380 mm
240 x 380 x 292 mm
39
27
1

Regular Price

£389.00

Special Price

£309.00

ET 2
Electronic lock
450 x 450 x 380 mm
350 x 380 x 292 mm
48
39
1

£369.00

ET 3
Electronic lock
600 x 450 x 380 mm
500 x 380 x 292 mm
61
55
1

£469.00

ET 4
Electronic lock
810 x 450 x 380 mm
700 x 380 x 292 mm
79
78
2

£529.00

ET 7
Electronic lock
700 x 500 x 450 mm
600 x 430 x 370 mm
81
94
1

£559.00

ET 8
Electronic lock
900 x 570 x 490 mm
800 x 500 x 400 mm
110
160
2

£699.00

PT 0
Double bitted key lock
250 x 290 x 220 mm
160 x 220 x 140 mm
17
5
-

£169.00

PT 1
Double bitted key lock
330 x 450 x 380 mm
240 x 380 x 292 mm
39
27
1

£219.00

PT 2
Double bitted key lock
450 x 450 x 380 mm
350 x 380 x 292 mm
48
39
1

£259.00

PT 3
Double bitted key lock
600 x 450 x 380 mm
500 x 380 x 292 mm
61
55
1

£319.00

PT 4
Double bitted key lock
810 x 450 x 380 mm
700 x 380 x 292 mm
79
78
2

£429.00

PT 7
Double bitted key lock
700 x 500 x 450 mm
600 x 430 x 370 mm
81
91
1

£459.00

PT 8
Double bitted key lock
900 x 570 x 490 mm
800 x 500 x 400 mm
110
160
2

£599.00