Chubbsafes Trident Grade 6-310 EX High Security and Fireproof Safe
The Chubbsafes Trident is a high security safe that offers triple protection against burglary, fire and explosives. It has been certified as Eurograde 6 standard and offers an insurance rating of £150,000 for cash and £1,500,000 for valuables.
Free delivery UK mainland
100% secure payments
Customers rate us at 4,8/5,0
Features
High security and fireproof safe for the storage of cash, jewellery, valuables and paper documents
Unique triple layer barrier technology ensure highest level of protection
Certified by ECB.S class CEN Grade VI according to EN 1143-1
Cash rating £150,000 / valuables rating £1,500,000
Certified by SP class 60 Paper according NT Fire 017
60 minutes fire protection for paper (documents, diplomas, certificates, personal files, etc.)
Also certified for attacks against explosives EX according to EN 1143-1
Safe door is equipped with two high security double bitted key lock, 2 keys supplied per lock (both are EN 1300 approved)
3-way boltwork with 32 mm diameter live locking bolts
Integrated protection by manganese steel anti-drilling plate, active relockers and cutting torch protection
Multi-layer construction with high secure burglary and fire resistant barrier material
3 removable shelves included
External dimensions: 1270 x 730 x 740 mm (HxWxD)
Internal dimensions: 1100 x 560 x 500 mm (HxWxD)
Volume: 308 litres
Weight: 1150 kg
Colour: Anthracite
Fixing via 5 x base / 1 x back wall (achoring material supplied)
Please add 63 mm to the external depth to include the door handle / hinges
Pros and cons
Triple protection against burglary, fire and explosives
60 minutes fire protection
Multi-layer construction
3 removable shelves included
Expert advice
The Trident is an excellent safe for any business or home to protect large amounts of cash and valuables.
It has a unique triple protection construction and comes with a great insurance rating.
Scale ratio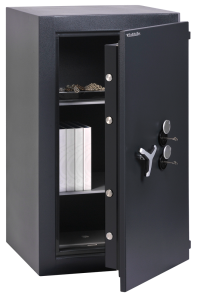 External dim. (HxWxD) 1270 x 730 x 740 mm
Internal dim. (HxWxD) 1100 x 560 x 500 mm
Weight (kg) 1150
Product Questions
What sort of delivery information do you need to know to help make the process as smooth as possible?
Question by: Tanya Brown on 24 September 2015
Specifications
| | |
| --- | --- |
| Art. No. | 1211002024 |
| EAN code | 5055409504883 |
| Brand | Chubbsafes |
| Type of product | Eurograde safe |
| Model | Trident VI 310 EX |
| Locking type | Dual locking |
| Burglary Certificate | Grade VI - EN 1143-1 |
| Insurance rating (cash / valuables) | £ 150,000 / £ 1,500,000 |
Read more specifications
Show less specifications
Delivery
Delivery
Price

(inc VAT)

UK mainland delivery

kerbside drop-off delivery service

UK mainland delivery

kerbside drop-off delivery service

The weight of this product is 1150 kg

The weight of this product is 1150 kg

Monday - Friday

£0.00
Full Service Installation (base fix on ground or upper floor via lift)

Professionally installed (delivered, placed and anchored) inside your building on ground floor or any floor with no more than 1 step or a suitable lift

Full Service Installation (base fix on ground or upper floor via lift)

Professionally installed (delivered, placed and anchored) inside your building on ground floor or any floor with no more than 1 step or a suitable lift

Monday - Friday

£759.00
Model range
| Model | Locking type | External dim. (HxWxD) | Internal dim. (HxWxD) | Weight (kg) | Volume (ltr) | Shelf | Price |
| --- | --- | --- | --- | --- | --- | --- | --- |
| |   | | | | | | inc VAT |
| Trident VI 110 EX | Dual locking | 790 x 730 x 560 mm | 620 x 560 x 320 mm | 635 | 111 | - | £8,649.00 |
| Trident VI 1195 EX | Dual locking | 1850 x 1500 x 740 mm | 1680 x 1330 x 500 mm | 2710 | 1117 | - | £23,219.00 |
| Trident VI 170 EX | Dual locking | 920 x 730 x 640 mm | 750 x 560 x 400 mm | 790 | 168 | - | £9,399.00 |
| Trident VI 210 EX | Dual locking | 920 x 730 x 740 mm | 750 x 560 x 500 mm | 880 | 210 | - | £10,189.00 |
| Trident VI 310 EX | Dual locking | 1270 x 730 x 740 mm | 1100 x 560 x 500 mm | 1150 | 308 | - | £11,039.00 |
| Trident VI 415 EX | Dual locking | 1470 x 810 x 740 mm | 1300 x 640 x 500 mm | 1400 | 416 | - | £14,119.00 |
| Trident VI 595 EX | Dual locking | 1850 x 880 x 740 mm | 1680 x 710 x 500 mm | 1810 | 596 | - | £17,189.00 |
| Trident VI 905 EX | Dual locking | 1850 x 1250 x 740 mm | 1680 x 1080 x 500 mm | 2350 | 907 | - | £21,719.00 |