Bulldog Centaur CA2000C Wheel Clamp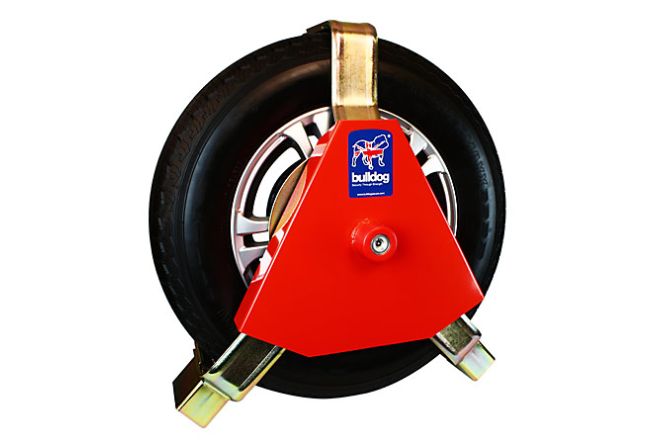 Play

Bulldog Centaur CA2000C Wheel Clamp
The Bulldog Centaur CA2000C wheel clamp is ideal for a variety of different vehicles and trailers. It has adjustable arms to suit different sizes. For peace of mind it is insurance approved and is tested by Sold Secure to the Gold standard.
Product overview
Reviews
Product Questions
Alternatives
Key features
This model is heavy duty and the clamp is locked in place using the Bulldog Super Bolt with two keys supplied.
Tyre Width: 175-260mm
Tyre Diameter: 640-760mm
Rolled edge steel and ribbed arms secure the clamp in place - 75mm x 6mm construction
Wheel nut protection disc situated behind the arms
Adjustable arms to allow fitting to a variety of wheel sizes
Complete with Bulldog Super Bolt lock supplied with two keys - drill and pick resistant
Sold Secure Gold standard
Insurance approved
Re-inforced cover plate finished in bright red powder coat for added deterrent
Suitable for trailers, vans, HGVs, 4x4s and motorhomes
Weight: 20kg
Please refer to the attached documentation for further information on this product.
Pro and cons
Insurance approved
Supplied with Bulldog Super Bolt lock
2 keys supplied
Adjustable arms
About the Bulldog Centaur CA2000C Wheel Clamp
This Bulldog wheel clamp is a perfect security solution to keep 4x4s, vans, motorhomes and trailers secure.
Please use our attached documents if you are unsure about sizing and dimensions before purchase.
Technical details
Specifications
Type of product:
Wheel clamp
External dim. (HxWxD):
x x mm
Internal dim. (HxWxD):
x x mm
Customer Reviews
The Centaur clamp is simply the best on the market. While it cannot resist a determined angle grinder attack its heavy duty steel components will certainly slow it down. Thieves are more likely to move on to seek a less well defended target.

Good product, but very difficult to line up and attach to wheel as it is very heavy.

Delivered on time and does the job intended for it
Product Questions
Is this the right clamp for 215/70/15 thanks
We found other products you might like!