Gun Cabinet Certification - Sold Secure SS302
In the United Kingdom it is vitally important to abide with current rules and laws around the storing of firearms securely. It is an offence to not comply with certain conditions. If offences are committed it can lead to a prison sentence, or a fine, or both.
When choosing a gun cabinet it is important to make the correct selection, so you can then adhere to this current legislation. Many different suppliers of gun cabinets offer different levels of security with each product offered.
---
Gun Safe Cabinets – BS7558:1992
The current British standard for a gun safe is BS7558:1992, which details the requirements to which gun cabinets must conform.  Although conformity to BS7558:1992 is mandatory, many gun cabinets remain untested and not certified to this day.
If you are going to store expensive firearms securely, it is important to choose the most appropriate gun cabinet to match your requirements.
---
Who are Sold Secure?
Originally Established in 1992 by Northumbria and Essex Police, with the help and backing of the Home Office. Sold Secure is dedicated to reducing the risk of crime by the assessment of a vast range of security products. Sold Secure is now owned and administered by the Master Locksmiths Association. Products are regularly tested by a highly skilled team.
---
What is Sold Secure SS302?
Sold Secure's test specification SS302 meets and exceeds the minimum required in Britain of BS7558 for gun cabinets. Sold Secure work closely with the insurance industry, government organisations and the police to ensure that the products being tested are fit for purpose and grade them at either Bronze, Silver or Gold.
---
How does testing work?
The testing and approval for Sold Secure is classified into 3 main categories; Gold, Silver and Bronze (there is an additional Diamond grade in some specifications). The higher the grade, the higher the level of security offered by the product. Bronze is the lowest grade and Gold is the highest, unless in a specification with a Diamond grade, in which case Diamond is the highest. The amount of time and the tools allowed are dependent on which test specification is being tested to. This is because Sold Secure testing replicates attack methods used by criminals to ensure maximum security for the intended application; thus, a Gold grade product would need to withstand heavier duty tools for an extended timeframe, in comparison to a Silver or Bronze grade product.
---
Gun Cabinets Certified with Sold Secure SS302
Warden LFS Gun Safe Range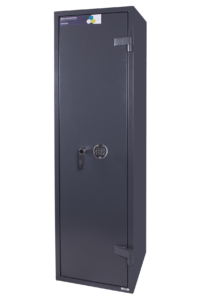 The Burton Warden gun safe range has been certified to Firearms Cabinets SS302:2020. It has been approved to the Silver Standard by Sold Secure.
The Warden is available in two different sizes (LFS 6 and LFS 14). It also comes with two different locking types with the choice of either a double bitted key lock or easy to use digital electronic lock. It has been built to an excellent standard and can be anchored to the base or back wall for added security.
Pros & Cons
Certified class by IMP Eurograde 1 according to EN 1143-1
Solid 3-way boltwork with live, steel bolts
100% Police approved
Independently tested to SS302 for gun security
High density foam gun divider
30 minutes fire protection
Heavy Safe
View the Burton Warden LFS Gun Safe range on our website